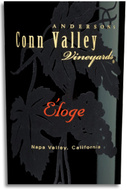 2010 Anderson's Conn Valley "Eloge"



It would go down as the coolest summer in recent Napa Valley history. Luc Morlet called the 2010 harvest "magique." Robert Parker's Wine Advocate described it as "epic", adding that the top wines are "big, powerful and viscerally thrilling." Todd Anderson, who has been crafting brilliant, age-worthy, estate-grown Reserves at his Conn Valley stronghold for three decades, called his massive 2010s "the purest, most elegant Cabernet Sauvignons in Conn Valley's history."

When we asked Todd to explain the vintage's remarkable poise, its age-worthy marriage of black fruit intensity, silken texture, and firm backbone, Anderson didn't miss a beat. "Every growing season comes with a script, but few provided as much drama as 2010. For me, this was a vintage where patience was really rewarded. Those who panicked in July really took it on the chin. But for those of us who have been through this before -- and stood pat -- 2010 may well be the most unique growing season in estate history."

Up here above St. Helena, where the Conn River flows off of Howell Mountain, May and June were unseasonably cold. The vines were already 2-3 weeks behind. Many panicked, pulling leaves in early July, hoping to jumpstart maturity.

Then, came two unexpected heat spikes, the first in mid-July, the second in August. Overly exposed bunches were blistered by the sun, making for an uneven crop, prone towards desiccation. But Anderson -- like Harlan, Screaming Eagle, Bryant Family and most of the other blue chippers in the valley -- left canopies untouched.

When the cool days returned in the latter part of August, Anderson's small crop was set for the home stretch. From the end of August through early October, the fruit matured slowly and incrementally. The call to harvest came just a few days into the second week of the month. The juice-to-skin ratio was high. There was virtually no raisin-ing or shrivel, making for one of the richest, juiciest, most chiseled Eloges in memory. The Advocate suggests it will hit its peak sometime in 2030 -- and that may well be playing it safe!

Glistening purple-black in color, with sensational aromatic purity -- a plush mix of blackberry, black cherry and violets, tinged with cool vintage sweet spice. Rich, powerful and voluptuous on the attack, packed with black fruit preserves, bracketed by ripe tannin vibrancy. Drink now -- but only after two hours in a carafe -- or far better, lay this one down for 7-15 years, as Robert Parker's Wine Advocate suggests.





Tasting Notes
2010 Anderson's Conn Valley Vineyards Eloge Napa Valley
"Although naturally still very much a baby, the 2010 Eloge offers significant potential. Juicy dark cherries, flowers, spices and French oak all emerge from the glass. Today, the French oak is a bit dominant, but that should be less of an issue over time, as the balance of fruit, acidity and tannin is superb. Violets, menthol and sage are some of the nuances that add complexity to a huge, resonant finish. There is plenty of potential here. Anticipated maturity: 2016-2030."
92-94 points -- Robert Parker's The Wine Advocate

By law, wine may ONLY be shipped to the following states: AZ, CA, CO, CT, DC, FL, GA, IA, ID, IL, KS, LA, ME, MI, MN, MO, NC, NE, NH, NM, NV, OH, OR, PA, SC, TN, VA, VT, WA, WI, WV, WY.