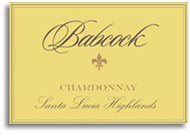 Sleepy Hollow, Pisoni and the Finest Under-$20 Chardonnay of the Year
In 2011, the coolest growing season in coastal history, Bryan Babcock turned out a spectacular Santa Lucia Highlands Chardonnay off the windswept hillsides near Pisoni and Sleepy Hollow. It was a brilliant effort from a guy who has long been one of the coast's most talented Chardonnay-makers.
We ran that offer three months ago, but never explained how we were able to bring home a $28 bottle for just $17.99. Now, we will. As we'd learn over a month of negotiations with the wiry, blond-haired winegrower, Babcock had grown tired of seeing WineAccess shine its spotlight on his high scoring friends and neighbors. Stolpman, Beckmen, Brewer-Clifton and Ojai had become steady features, and now Babcock wanted a spot on our stage. But as we'd explain in painstaking detail, these first-time cameos on WineAccess come at a high price. In the end, we drove a hard bargain -- perhaps too hard -- landing what we believed to be the most stunning Chardonnay bargain ever offered on WineAccess at less than $20/bottle!
Most buyers would share our opinion. So far, 26 have chimed in rating this one a solid 4.11 stars out of 5. Four reviews, in particular, grabbed our attention.

Bravo!
This really is the best under-$20 Chardonnay you've ever offered.
-- Marcus from Wilton, CT

Is there more?
I bought a case and I'm now down to my last two bottles.
-- John from Columbus, OH

Great wine
Rich, but also crisp. Only problem is it goes down too easily
-- Tami from Beachwood, OH

I've been on Kistler's mailing list for years, and I've recently done the same with Morlet after buying those Chardonnays on WineAccess. But at those prices, you almost feel guilty popping corks. So, I'm always looking for reasonably priced substitutes. I was skeptical about this one before I bought it, but I'm not any more. To my taste, Babcock's 2011 is a $35 bottle. If you get more, I'll take two cases.
-- Gwen from New York, NY
Did Gwen go overboard? Yes. Including any $17.99/bottle coastal Chardonnay in the same sentence with the likes of Kistler and Luc Morlet's "Ma Princess" suggests that the writer should have stopped drinking a half hour before she began writing. But in fairness, she wasn't as far off as one might think. The exquisite aromatics, lush citrus core and electrifying finish of Babcock's 2011 outpoint many 2011 Sonoma Coast Chardonnays at three times today's price! Here's why:
Babcock had long been intrigued by the broad, full-throttle structure of the Arcadian and Talbott "Sleepy Hollow" Chardonnays. Set high above the Salinas Valley, these vineyards eked out a few tons of small-berry clusters each September. While concentration seemed never to be an issue, Bryan often questioned the sufficiency of the acid underpinnings. But, in the coldest growing season on record, Bryan told us, "Acid was never a problem."
The 2011 Babcock Chardonnay "Santa Lucia Highlands" is brilliant straw gold in color, infused with mouthwatering aromas of lemon custard and orchard pit -- marvelously focused and mineral. The attack is textbook, rich and broad like Talbott, packed with ripe citrus, dense and fleshy.

Tasting Notes
2011 Babcock Vineyards Chardonnay Santa Lucia Highlands
"Brilliant pale gold in color, infused with mouthwatering aromas of lemon custard and orchard pit -- beautifully focused and mineral. The attack is rich, broad and dense, packed with ripe citrus, dried apricot and juicy apple compote. Terrific on the back palate -- bright, crisp and persistent. Drink now for its youthful exuberance, but don't be afraid to lay this one down for 3-5 years. Dividends will be paid to the patient."
-- WineAccess Travel Log

By law, wine may ONLY be shipped to the following states: AZ, CA, CO, CT, DC, FL, GA, IA, ID, IL, KS, LA, ME, MI, MN, MO, NC, NE, NH, NM, NV, OH, OR, PA, SC, TN, VA, VT, WA, WI, WV, WY.