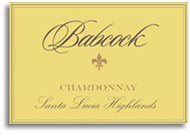 Member Reviews:

I've been on Kistler's mailing list for years, and I've recently done the same with Morlet after buying those Chardonnays on WineAccess. But at those prices, you almost feel guilty popping corks. So, I'm always looking for reasonably priced substitutes. I was skeptical about this one before I bought it, but I'm not any more. To my taste, Babcock's 2011 is a $35 bottle. If you get more, I'll take two cases.
-- Gwen from New York, NY

Bravo!
This is really is the best under-$20 Chardonnay you've ever offered.
-- Marcus from Wilton, CT

Really Nice!
Copious apples and pears, with a touch of lemon, on the nose. Outstanding fruit with a touch of honey; long finish. Very good acidity, but never harsh. Even better second day with no loss of crispness on the finish. Should cellar really well. Super quality for the price!
-- Ron from Rolla, MO

Soft fruit and honey
Floral and honey notes on the nose. Pear flavor on the palate. Nice acidity balance. Solid performer at this price.
-- Keith from Nazareth, PA

Is there more?

I bought a case and I'm now down to my last two bottles.

-- John from Columbus, OH




#1 Under-$20 Chardonnay and the Houdini Folder



Every week, we flag dozens of Chardonnay emails, saving them in a folder named "Houdini."

Many of the authors are sophisticated buyers: They have been treated to private tastings at Kistler, Ramey, Peter Michael and Talbott. They've walked the rows of Hudson, Hyde, Rued and Sleepy Hollow Vineyards. They know all about the role the fog plays in the growing of these world-class Chardonnays, how the vines are stressed, eking out tiny crops of small-berry clusters that marry New World opulence with Burgundian backbone. But after they impress us with the breadth of their knowledge, they invariably conclude by asking for a magic trick.

"You guys go on and on about WineAccess's buying muscle. If your guns are that big, why can't you come up with excellent Chardonnay for under $20/bottle?" Where's Houdini when you need him?

Few winemakers on the coast can boast of a Chardonnay resume like Bryan Babcock's. Beginning in the mid-1980s, off of a sandy patch on Route 246, about 45 minutes north of Santa Barbara, Babcock Vineyards and Bryan's estate-bottled Grand Cuvee Chardonnay took Southern California by storm.

But even as Babcock's Chardonnay star rose, he couldn't sit still, incessantly searching out new sites off of which he'd fashion some of the most memorable vintage lineups on the coast. First to join the Grand Cuvee in the hit parade was Paul Albrecht's Mt. Carmel Vineyard, set right up against what's now called Sea Smoke. Then Bryan ventured north, his restless mind working wonders with Brian Talley's Rosemary's and Rincon Vineyards. Last, there was Clos Pepe, just up the road on Route 246, offering up the same lemon-curd richness and high-toned vibrancy for which Babcock's Chardonnays are so well known.

A year ago, Bryan called to say that in 2011, he'd taken to the windswept hillsides of Santa Lucia Highlands. Babcock had long been wowed by the superb concentration of the Chardonnay coming off Sleepy Hollow Vineyard — the richness of Talbott's rendering and the riveting backbone of Joe Davis's Arcadian. In one of the coldest summers in memory in recent memory in the Highlands, the brilliant Babcock went all in.

Bryan's 2011 was magnificent, but as we'd learn five months after bottling, he'd made too much, "bitten off more than (he) could chew." We drove a hard bargain. Then, thinking of our Houdini folder, we went in for the kill.

The 2011 Babcock Chardonnay Santa Lucia Highlands is brilliant pale gold in color, infused with mouthwatering aromas of lemon custard and orchard pit — beautifully focused and mineral. The attack is rich and broad — a la Talbott — packed with ripe citrus concentration, dense and fleshy.





Tasting Notes
2011 Babcock Vineyards Chardonnay Santa Lucia Highlands
"Brilliant pale gold in color, infused with mouthwatering aromas of lemon custard and orchard pit — beautifully focused and mineral. The attack is rich, broad and dense, packed with ripe citrus, dried apricot and juicy apple compote. Terrific on the back palate — bright, crisp and persistent. Drink now for its youthful exuberance, but don't be afraid to lay this one down for 3-5 years."
-- WineAccess Travel Log

By law, wine may ONLY be shipped to the following states: AZ, CA, CO, CT, DC, FL, GA, IA, ID, IL, KS, LA, ME, MI, MN, MO, NC, NE, NH, NM, NV, OH, OR, PA, SC, TN, VA, VT, WA, WI, WV, WY.