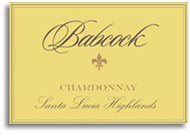 Babcock Chardonnay and the Houdini Inbox



Trust us. We hear you. Anyone who suggests that America's love affair with California Chardonnay is over isn't spending much time filtering our inboxes. Even as we flag dozens of email requests each week -- parking them in a folder now bursting at the seams -- we rarely answer. Here's why.

Most of the email authors are surprisingly well-informed. Many have traveled coastal wine trails, visited the likes of Kistler, Ramey and Talbott, even walked the rows of Hudson, Rued, or Sleepy Hollow Vineyards. They make mention of the role the fog plays from Sea Smoke to the northern tip of Sonoma Coast, recognizing that world-class Chardonnay isn't simply a function of small-berry concentration, but also of beautifully delineated, piercing, acid backbone.

But even as these members impress us with the breadth of their knowledge, they continue to conclude their missives with a request for the impossible. They ask us to conjure up offers from the top names on the coast -- drawn from the hottest fog-shrouded Chardonnay spots -- for under $20/bottle. That's why we labeled that bloated folder in our inbox, "Houdini."

Today, Harry H. is back for one last magic act. In 941 words, sixteen months after it was created, we're dragging the "Houdini" folder into the trash bin on our MacBook Air. Here goes.

Few winemakers on the coast boast a Chardonnay resume like Bryan Babcock's. Beginning in the mid-1980s, off of a sandy patch on Route 247, about 45 minutes north of Santa Barbara, Babcock Vineyards and Bryan's estate-bottled Grand Cuvee Chardonnay took southern California by storm.

But even as Babcock's Chardonnay star rose, he couldn't sit still, incessantly searching out new sites off of which he'd fashion some of the most memorable vintage lineups on the coast. First to join the Grand Cuvee in the hit parade was Paul Albrecht's Mt. Carmel Vineyard, set right up against what's now called Sea Smoke. Then Bryan ventured north, carrying the torch for Brian Talley's Rosemary's and Rincon Vineyards. Last, there was Clos Pepe, just up the road on Route 247, offering up the same lemon-curd richness and high-toned vibrancy for which Babcock's Chardonnays are so well known.

Three weeks ago, Bryan called to say that in 2011 -- intrigued by the Sleepy Hollow Chardonnays at Talbott and Arcadian -- he'd finally tested the Chardonnay waters of the Santa Lucia Highlands. Perched high above the Salinas Valley, Babcock told us he'd always been wowed by the superb concentration of the Talbott Chardonnays, but often wondered about the underlying acid underpinnings. Then the self-effacing winemaker -- always too quick to criticize even his best Grande Cuvees -- said what he never says. "I really like this wine, but there's just too much. I need to lighten up. Can I overnight a bottle?" Did he say, "lighten up"??

The 2011 Babcock Chardonnay "Santa Lucia Highlands" is brilliant pale gold in color, infused with mouthwatering aromas of lemon custard and orchard pit -- beautifully focused and mineral. The attack is rich and broad -- à la Talbott -- packed with ripe citrus concentration, dense and fleshy.

But the secret to this brilliant Santa Lucia Highlands powerhouse isn't so much in the richness that's common to all the top wines of the appellation, but in its persistence. "I think I just caught it right. 2011 was the coldest vintage I can ever remember. We dropped crop to provide plenty of airflow and to spike maturity. The mild summer made for higher acids and something magical in the Santa Lucia Highlands."

Then Bryan threw us a soft, slow one, as big as a grapefruit, right over the middle of the plate. Rarely do we make firm commitments in advance. This time -- to help Bryan "lighten up" and to empty our Inbox -- we swung for the fences, committing to 300 cases.




Tasting Notes
2011 Babcock Vineyards Chardonnay Santa Lucia Highlands
"Brilliant pale gold in color, infused with mouthwatering aromas of lemon custard and orchard pit -- beautifully focused and mineral. The attack is rich, broad and dense, packed with ripe citrus, dried apricot and juicy apple compote. Terrific on the back palate -- bright, crisp and persistent. Drink now for its youthful exuberance, but don't be afraid to lay this one down for 3-5 years. Dividends will be paid to the patient."
-- WineAccess Travel Log

*Important Shipping Information
This is a Pre-Arrival Offer: Weather permitting, wine will begin shipping upon arrival, in March, 2013.
By law, wine may ONLY be shipped to the following states: AZ, CA, CO, CT, DC, FL, GA, IA, ID, IL, KS, LA, ME, MI, MN, MO, NC, NE, NH, NM, NV, OH, OR, PA, SC, TN, VA, VT, WA, WI, WV, WY.