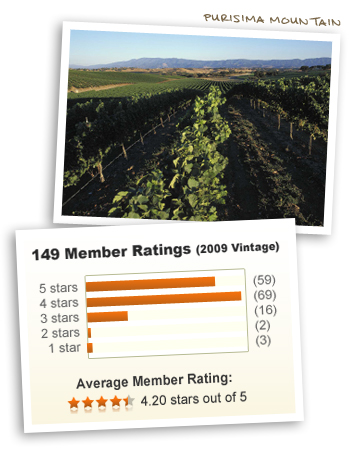 91pt Trifecta on Purisima Mountain



It would be a hair-raising growing season, but in the end, on these limestone-strewn hillsides of Ballard Canyon, Steve Beckmen would be grinning ear to ear. The single-patch Syrahs would each earn big scores, marrying luscious black fruit concentration with Cote-Rotie vibrancy. But if you ask the self-effacing winegrower which bottle in this marvelous cool summer lineup is most startling, he responds with little hesitation.

A year ago, Steve Beckmen carved out 900 bottles from a 680 case production of his 2009 Purisima Mountain Grenache for WineAccess. We were extremely high on that one, as were the pundits. But when the scores were tallied, those who purchased what many collectors believe to be the top estate-grown Grenache on the coast, buyers not only mimicked Parker and Tanzer's reviews. They upped the ante.

149 buyers rated Steve's voluptuous 2009 Grenache an average of 4.2 stars out of five, one of the highest tallies of the year for an under-$30 American red. Dozens posted ecstatic reviews, asking for more. How does the 2010 Purisima Mountain Grenache compare to the top scoring 2009? "It doesn't," Beckmen told us two months ago in Santa Ynez. "There's no comparison. 2009 was excellent, but 2010 was a miracle harvest -- the greatest since I began 15 years ago." Here's why.

The vintage produced one of the most dynamic growing seasons on record. The summer was unseasonably cold. Beckmen and his neighbors quietly worried that 2010 would be a year for pink wine -- not red. But when the sun began to shine in early September, and the mercury then soared, the sparse clusters on Beckmen's head-trained Grenache plants sucked up the heat. Sugars spiked -- even as acid readings remained marvelously intact.

The 2010 Purisima Mountain Grenache may well be the most seductive red wine ever to come off these limestone hillsides. Rarely have Parker, Tanzer and Wine Spectator sounded such a common chord.

Tanzer called it "suave … sappy and precise … offering intense red fruit and pastille flavors." James Laube at the Spectator chimed in with "combines richness with density, purity and focus, offering vivid wild berry, raspberry and spicy anise notes." The Wine Advocate provided the final flourish, describing this spell-binding new release with "dark raspberries, flowers and mint are all woven together in a silky fabric of notable class."

It would be a perfect critical trifecta -- 91 points all around.

Just one bit of bad news today. The cold summer crippled yields all over Ballard Canyon. Beckmen was hit particularly hard and the Grenache crop was down close to 30%.





Tasting Notes
2010 Beckmen Vineyards Grenache Purisima Mountain Vineyard Santa Ynez Valley
"Deep ruby. An assertively perfumed bouquet evokes black raspberry, cola and Asian spices, with a suave floral quality and a touch of smokiness. Sappy and precise on the palate, offering intense red fruit and floral pastille flavors underscored by tangy minerality. Spicy and seamless on the finish, which leaves floral and red fruit compote notes behind."
91 points -- Stephen Tanzer, International Wine Cellar

"Combines richness with density, purity and focus, offering vivid wild berry, raspberry and spicy anise notes that are framed by tight, chewy tannins. Ends with an intriguing rustic edge. Drink now through 2018."
91 points -- James Laube, Wine Spectator

"The estate's 2010 Grenache Purisima Mountain Vineyard is loaded with personality. Dark raspberries, flowers and mint are all woven together in a silky fabric of notable class. Varietal Grenache notes are amped up by the presence of 24% Syrah (co-fermented) in this voluptuous, caressing red. Anticipated maturity: 2012-2016."
91 points -- Antonio Galloni, Robert Parker's The Wine Advocate

By law, wine may ONLY be shipped to the following states: AZ, CA, CO, CT, DC, FL, GA, IA, ID, IL, KS, LA, ME, MI, MN, MO, NC, NE, NH, NM, NV, OH, OR, PA, SC, TN, VA, VT, WA, WI, WV, WY.