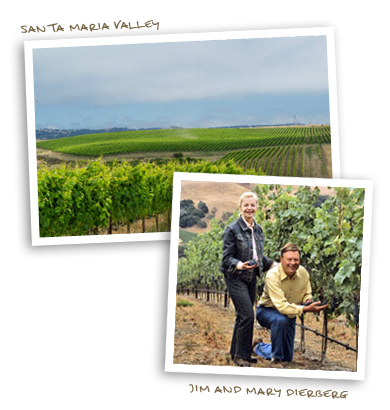 The Riskiest Pinot Noir Planting on the Coast



The making of a world class Pinot Noir vineyard has never been something for the faint of wallet. Like Sangiovese and Nebbiolo -- but unlike Cabernet Sauvignon and Chardonnay -- Pinot is unforgiving. If the climate is too warm, the wines are heavy and blowsy, out of balance. If yields are too high in the cool spots, the fruit rarely reaches physiological maturity, helping to explain all that astringency you find in so many under-$30 bottles.

Pinot Noir skins are thin. And while the hang time provided by edgy vineyards on the fog-shrouded coast offers up a kind of length and ethereal phenolic complexity unlike any Pinot in the world, the chill and humidity also provides a disturbing recipe for mold and rot.

So, when Jim Dierberg launched his second career by tabling plans for purchasing vineyard land in Napa Valley or Bordeaux, opting instead for what would prove to be one of the most daring Pinot Noir plantings on the coast, he didn't do so without taking appropriate precaution. First he brought in more soil analysts than one could imagine. Then after planting, he lobbed in a call to Paul Hobbs to see what light one of California's most brilliant Pinot-makers could shine. Finally, after dotting all the i's, the ex-banker penciled out a business plan that was neither for the faint of heart or wallet. But even after researching this incredible planting halfway to death before planting 100 manicured acres a stone's throw from Solomon Hills, Dierberg, the most experienced of business guys, did what it's all too easy to do down here. He underestimated Nature's coastal caprice.

If you did as we did last summer, making the drive 40 minutes north of Montecito, hugging the coast towards Santa Maria, you couldn't help but wonder why anyone would risk planting Pinot Noir up here. At 11am, the fog was still thick, blanketing the coast in a thick soupy cloud. It wouldn't be before noon that the shroud lifted, opening up to turquoise skies and bright sunshine -- for all of four hours -- before the soup came drifting back in at four. The mid-afternoon high would be 75 degrees, but under the second fog cover, the temperature would plummet quickly into the mid-50s, a humid chill settling in overnight. That barometric see-saw pushed these low vigor plants to the limit in 2008, squeezing out just a few clusters per vine of deeply concentrated, high acid fruit that wouldn't be harvested until the first week of October!

But spend an hour with this gorgeous 2008 estate-grown Pinot Noir in Zalto stemware, swirl, smell and sip as it slowly sheds its cold climate sinew, showing off the superb Russian River-like red raspberry compote concentration that makes this spot and this vineyard one of the most sought after on the coast. Then you'll understand why Jim Dierberg, despite astronomical production costs, is more bullish than ever.

Here's the math. Unlike some in the neighborhood who just can't afford the protocol in the vines, yields off of Dierberg's Santa Maria hotspot rarely top 2.25 tons per acre. But that's just the beginning. The cool temperatures, but even more so, the wind, have a way of wreaking havoc with even ripening of the BB-sized berries. At the sorting table, 10-15% of the crop is cast aside. As only free run juice -- no press juice -- made it into this startling 2008, our slide rule suggests that an additional 25% of the production was lopped off. What was left in 2008 was marvelously concentrated (how couldn't it be?), but still laced with scintillating fog-shrouded vibrancy, accounting for one of the more stunning releases from the spot and the vintage. The cost of making this one? Don't ask. At least for the time being, Jim Dierberg isn't counting.




Tasting Notes



2008 Dierberg Vineyard Pinot Noir Estate Grown Santa Maria Valley
"Deep ruby to the edge. Riveting aromas of red raspberry and wild cherry, subtlety laced with vanilla. Slightly closed initially, but like so many top pedigree, cool climate Pinots, oxygen is this wine's friend. Fifteen minutes later, the sinew melts away, giving to a luscious core of crushed raspberry preserves -- Russian River-like -- juicy, lush and polished. Sleek in texture with fine mouthfeel, the finish speaks volumes to fog and the chill of night. Brisk, firm, lengthy. Delicious now after a quarter hour of air, but built to age. Drink now-2017."
-- WineAccess Travel Log


*Important Shipping Information
Orders will begin shipping the week of July 16, 2012.
You will be provided with the exact shipment date during checkout.
By law, wine may ONLY be shipped to the following states: AZ, CA, CO, CT, DC, FL, GA, IA, ID, IL, KS, LA, ME, MI, MN, MO, NC, ND, NE, NH, NM, NV, OH, OR, PA, SC, TN, VA, VT, WA, WI, WV, WY.