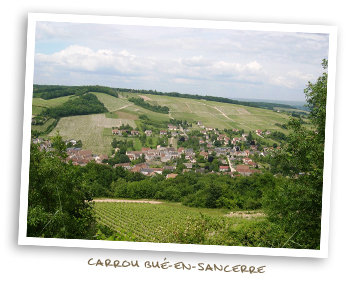 Pinpoint Precision in Sancerre



Let's begin with what matters most. For those of you who share our affinity for the rich, electrifying Sauvignon Blanc of the central Loire, few $20 bottles touch this exquisite new release from Dominique Roger at Domaine du Carrou.

But as we've learned so many times over the course of the last few decades, France's finest mineral whites are frequently drawn from the most challenging vintages. In 2011, those who continued to cut corners, liberally spraying their vines with chemical herbicides and pesticides, came up short. Those who now eschew hand-picking for the ease of mechanical harvesting, were equally penalized. Yet Roger, the Pinards and the Vacherons came up with brilliant efforts that married the warm vintage opulence of 2009 with the scintillating persistence of 2010.

The 2011 Domaine du Carrou Sancerre is brilliant pale gold in color. The aromas are of ripe apple and pear, touched with anise, pinpoint in their precision. Rich and lush on the attack -- in keeping with the warm summer -- still absolutely pristine and juicy, the finish is clean as a whistle, crisp and long. Dominique Roger hit a long drive into the left field bleachers while many of his neighbors struck out looking. Here's why.

"Today," Dominique lamented, "over 90% of the Sauvignon Blanc is machine harvested in the Loire Valley. In a vintage like 2002, where there was little risk of mildew or rot, the machines do a good job. But this is the Loire Valley, not Chile. Difficult growing seasons are the norm -- and often it's in the toughest years that we make our greatest wines."

In what would prove to be a truly bipolar growing season, the spring was warm, even summer-like, getting the vines off to a fast start. But summer turned cool and wet, almost autumn-like. Plant growth was vigorous, pushing out a potentially large crop. As you trek the rows above Bué-en-Sancerre, there is no signage delineating the vines of one producer from those of another. But in August 2011, one hardly needed a program to understand the actors in play.

For those who no longer work the soil or hand-tend the vines, there would be prevalent use of herbicides. The ground was rock hard, the leaves were an unnatural green. Each plant harbored a gigantic crop, with little room for airflow between bunches. There was ample incidence of mold, something that would be all too evident in the finished wines of the lesser estates.

But Dominique Roger's vines stood in sharp contrast. The leaves were a healthy pale green. The soil was breathing, alive, freshly turned. Roger had explained that he and his crew had rarely worked so hard over the summer months, hand-plucking bunches so as to provide maximum aeration, ultimately leaving 30% of the finished crop on the ground.

The smaller crop size, coupled with ample leaf-pulling, allowed Dominique's clusters to reach complete phenolic maturity 10 days before most of his neighbors. Roger would begin his harvest on September 5th, quickly bringing in a tiny crop of pristine Sauvignon Blanc clusters that would account for a magical Sancerre that may well outpoint the monumental 2010.





Tasting Notes
2011 Domaine du Carrou Sancerre
"Brilliant pale gold in color. Piercing aromas of ripe apple and pear, tinged with anise. The attack is rich and juicy, infused with apple/pear vibrancy -- lush, yet high-toned and spectacularly crisp -- all bracketed by terrific mineral persistence. Drink now, in a year. Or in a decade. These Roger Sancerres go on forever."
-- WineAccess Travel Log

By law, wine may ONLY be shipped to the following states: AZ, CA, CO, CT, DC, FL, GA, IA, ID, IL, KS, LA, ME, MI, MN, MO, NC, NE, NH, NM, NV, OH, OR, PA, SC, TN, VA, VT, WA, WI, WV, WY.