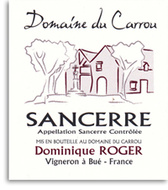 Cayenne in Sancerre



Among the world's leading wine voices, Tanzer remains a flatliner, rarely given to hyperbole in either his ratings or reviews. But we're told that on a May evening at Bar Boulud, even the New Yorker seemed to lose his cool, mesmerized by the salmon-pink sophistication of a bottle that many believe is the most riveting, single-vineyard rosé in France. The International Wine Cellar dropped 91 points on Dominique Roger's 2011 Sancerre Rosé, the highest rating in 5 years for any pink Sancerre under $20.

Three weeks ago, we drove from Tours to Sancerre and called Dominique just to ask the appellation's daredevil winegrower if his 2012 would hold a candle to the stunning 2011. Dominique never toots his own horn, but this time, he wouldn't miss a beat. "There's no comparison.

The 2012 is the rosé I always imagined making off of Cayenne -- the reason I didn't give up after the washout.

It's as mineral as the 2011, but weightier, and juicier. Even more vibrant." Here's why.

In villages like Chavignol, Bué-en-Sancerre, Verdigny and Amigny, every hillside is blanketed with vines, barely a square meter left untended. But at the very top of Bué, there had always been one cool, north-facing slope that had never been planted.

Deemed too cool for Sauvignon Blanc or Pinot Noir, and so impossibly steep that not a grower dared drive an inch of budwood into the ground.

Then, one day, the old guys at the cafe heard a rumor that daredevil winegrower Dominique Roger had purchased the slope, with the intention of growing Pinot Noir for making rosé!

Convinced that Roger -- long thought to be somewhat unhinged -- had now completely lost his mind, the octogenarians followed his white work truck to the most elevated perch in Bué. A little over a year later, after the site was finally planted, the retirees gave that vineyard a name. They called it "Cayenne," after the sun-baked prison just off the coast of French Guiana!

Every day for the next two weeks, Roger drove back up that road, closely followed by the Bué retirees.

But on the last day, with the planting now complete, black clouds gathered over Sancerre. The octogenarians had seen this movie before and quickly packed up, hustling back down the hill, running for cover.

As to Dominique Roger, he too knew this plot line, but he sat just at the top of the hill, watching as the clouds grew darker. If you've never seen one of these Loire Valley

tempêtes

, you don't know how quickly the sky opens up, how the rain pours down in buckets, turning suddenly to hail.

In just a few minutes, "Cayenne" was washed out and battered. Drenched to the bone, Dominique Roger trudged back to town, beaten -- but as all would soon see, hardly defeated.

The following spring, when that white work truck again careened up the hill, the old guys followed.

Sancerre flowed, accompanied by country pâté, goat cheese and thick-crust pain de campagne. For fourteen straight days, the retirees partied as Dominique and his co-worker sweated

, darting up and down the hillside, carving Pinot Noir budwood into the sandy topsoil. When the last of the plant was set in the ground under gorgeous turquoise skies, we're told that the spectators came to their feet, applauding Roger's tenacity. It wouldn't be long before the winegrower's resolve gave birth to the most strikingly rich, fabulously mineral rosé anyone in Bué-en-Sancerre had ever tasted.

In a 2012 growing season that would deliver a tiny,

if terrifically concentrated crop, this north-facing slope eked out a magical, small-berry crop. Sugars were unusually high, while acids topped the exquisite 2011

. Roger picked "Cayenne" by hand, then hauled the pink wine harvest of his career to the crusher down the hill.

Glistening, pale ruby to the rim, with luscious aromas of strawberry, red raspberry and citrus peel.

Unusually rich for a pink wine, weighty, dense and compact, the bright red fruit core is braced with what Tanzer called "terrific inner-mouth verve and minerality."

Serious, intellectual, yet utterly quaffable, drink now, or lay down for 3-4 years.

Tasting Notes
2012 Domaine du Carrou Sancerre Rosé
"Bright pale ruby to the rim with luscious aromas of strawberry, crushed raspberry and citrus zest. Unusually concentrated for a pink wine, weighty, dense and compact, the bright red fruit core beautifully braced with what Tanzer called "terrific inner-mouth verve and minerality." Serious, intellectual, yet utterly quaffable. Drink now or lay down for 3-4 years!"
-- WineAccess Travel Log

*Important Shipping Information
This is a Pre-Arrival Offer: Weather permitting, wine will begin shipping upon arrival in September 2013.
By law, wine may ONLY be shipped to the following states: AZ, CA, CO, CT, DC, FL, GA, IA, ID, IL, KS, LA, ME, MI, MN, MO, NC, NE, NH, NM, NV, OH, OR, PA, SC, TN, VA, VT, WA, WI, WV, WY.