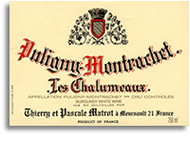 Business As Usual in Puligny-Montrachet
During the Great Recession, the top estates on many of the world's most glamorous wine routes took it on the chin. As Italian restaurants struggled to fill seats on Saturday night, Barolo and Super Tuscan sales slipped. Napa Valley was rocked as wholesalers demanded deep discounts in response to the tightening of retailer belts. Bordeaux was saved by the Chinese, as American and British buyers headed for the exits.

But on the calcareous hillsides above three small hamlets just south of the town of Beaune, few growers paid the collapse of Lehman Brothers and Bear Stearns much mind. If the name outside your cellar door was Coche-Dury, Niellon, Matrot, Ramonet, Lafon or Morey, and your families had long been tending the Premier Cru Chardonnay vineyards of the Côte de Beaune, even as the Dow crashed, it was business as usual.

Our first WineAccess offer was published at the tail end of 2006. Since then, over 2500 stories have made it into member inboxes. We've broken down the cellar doors of Beaucastel, Guigal and Guiraud in Châteauneuf-du-Pape and of Harlan Estate, Luc Morlet, and Phelps in Napa. We've coaxed small Barolo allocations out of Elio Grasso in Monforte and Grand Cru red Burgundies from Louis Latour. But when it's come to laying our mitts on even a few dozen cases of Premier Cru Puligny-Montrachet from one of the greatest names in Burgundy, we've completely struck out. Until today.

The 2011 growing season in Burgundy has been called "freakish." From March through late May, days were summer-like — warm and dry — prematurely speeding up the vegetative cycle. For the first time since we first visited the Côte de Beaune in 1982, flowering was over by mid-May, suggesting harvest might begin as early as the first week of August!

But on May 31, Nature shifted gears. The temperature plummeted nearly 20 degrees, marking a dramatic change in weather patterns. June was cool, with plenty of sunshine. But from mid-July — when we arrived in Beaune with a suitcase full of long pants and sweaters — to mid-August, the weather was cool and damp.

By the end of August, the Côte de Beaune elite had worked their vines as rarely before. The Matrots, in particular, had dropped fruit aggressively, opening up canopies to promote plenty of airflow between clusters. The call to harvest on Premier Cru Chalumeaux came in the first week of September. Even after the summer "green" harvest, the family's crew carefully handpicked clusters before a second tri on the sorting table.

Stephen Tanzer, the most respected Burgundy critic in the world, called attention to the disparate quality of the Côte de Beaune whites. Those who were less severe in the vines made pretty, if fairly simple, wines. But for the best of Puligny-Montrachet — Sauzet, Niellon and Thierry et Pascale Matrot — many of their pristine 2011s outpointed the critically acclaimed 2010s.

Every bottle of the tiny production of the 2011 Thierry et Pascale Matrot Puligny-Montrachet Les Chalumeaux Premier Cru was allocated a year before release. Brilliant pale-golden to the rim, infused with piercing aromas of baked apple and white peach, ripe and exotic. Lush and dense on the attack, almost saline and marvelously mineral, the core is packed with apple/pear concentration, while the finish remains long, persistent and bracing. Drink now if you're horribly impatient or, far better, do as we are and pop your first cork sometime in 2020.





Tasting Notes
2011 Domaine Thierry et Pascale Matrot Puligny-Montrachet Les Chalumeaux Premier Cru
"Good pale straw-yellow color. Ripe aromas of candied apple and flowers; more exotic than the foregoing wines. Sweet and silky in the mouth, offering a distinctly lacey quality to the flavors of white flowers, fresh almond, spices and minerals. Can't quite match the Charmes for finesse but the broad finish shows a subtle mineral underpinning."
92 points -- Stephen Tanzer, International Wine Cellar

"Pure aromas of white peach and flowers. Sweet and ripe but vivacious too, with classic Puligny flavors of peach, flowers and minerals. Less reduced than the Charmes and easier to taste today. Finishes very dry, with a hint of licorice and excellent length and lift."
90-93 points -- Stephen Tanzer, International Wine Cellar, Sept. 2012


By law, wine may ONLY be shipped to the following states: AZ, CA, CO, CT, DC, FL, GA, IA, ID, IL, KS, LA, ME, MI, MN, MO, NC, NE, NH, NM, NV, OH, OR, PA, SC, TN, VA, VT, WA, WI, WV, WY.