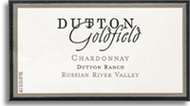 2010 Dutton-Goldfield Chardonnay Dutton Ranch Russian River Valley
Reg Price

Offer Price

(per btl)
By the bottle
$35
$29.99
You Save

$5.01 (14%)

12 bottles or more
$26.99
You Save

$8.01 (23%)

Shipping is included on orders of 6 bottles or more!
Parading in Occidental



It's starting to feel like déjà vu. Yesterday, as the Reds went down in the ninth and the Giants clinched, Dan Goldfield popped up off the leather armchair jubilantly, returning with three Zalto Universal stems and a bottle of what he claims is the finest Dutton Ranch Chardonnay in 25 years.

It was hardly a matter of debate. The color of the 2010 Dutton-Goldfield "Dutton Ranch" was brilliant gold, the aromas (magnified in Zalto) a juicy, highwire gumbo of lemon zest, nectarine and orchard pit. The attack was terrifically wound up, with a rich, almost bittersweet tropical fruit core splashed with lemon custard. But as Goldfield launched into a monologue about that improbable growing season (spicing up the play-by-play with the Giants' equally unlikely 2010 World Series run), he reminded us of the fortuitous calls Steve Dutton made in the vines, and how those decisions turned a viticultural puzzle into 93-point genius.

"It was a rollercoaster season," Goldfield told us, his limbs now draped over the tasting room sofa. "In July, we thought we could really be in trouble. Who didn't? It was like the sun was never going to shine again on the coast. The Chardonnay was WAY behind. I was worried, so I went to see Steve. He was cool as a cucumber." While many in Russian River pulled leaves, opening up clusters to the sun, looking for any way to jumpstart maturity, Dutton -- the greatest name in Russian River Valley viticulture -- never panicked. He's seen this game before. "It's kind of like back surgery. If you pull the leaves and open things up, you can't go back and stick them back on. So when the heat spike came, many in Russian River were torched. Dutton Ranch never missed a beat."

That first July heat spike would be torrid, a week of 100+ degree days. The exposed clusters blistered and would be left on the ground. On Goldfield's handpicked rows of Dutton Ranch, the vines skated through and then rode the seesaw through the rest of the growing season.

"Up and down we went. After the heat, it rained. It was cold. But when the next heat spike came, the clusters were still protected by the leaf canopy. The rain turned out to be just what we needed. The crop load was down almost 30%. But, by the time the Giants started on that crazy winning streak, the fruit looked fantastic. We picked during the Phillies series. For those who never pulled leaves, we were parading in Occidental."

The only downside of this miracle vintage would indeed be the tonnage. Typically, off of Dutton Ranch, Goldfield draws a bit more than three tons per acre of Chardonnay. In 2010, he wouldn't top two. The low yields contributed mightily to the electrifyingly mineral concentration -- the cold spells and a mild September spoke to the riveting acid balance. But when we came to Dan several months ago for our annual allocation of this Dutton Ranch Chardonnay and the 97pt single vineyard bottling off the slope Steve Dutton calls "Kistler Hill," we'd come away disappointed.

The first salvo of 1200 bottles disappeared on a quick April morning. Another 300 were held back for the Redux we knew would follow after buyers weighed in with an aggregate score of 4.32 stars out of 5 --as high as members have ever gone for any under-$30 Russian River Chardonnay.




Tasting Notes



2010 Dutton-Goldfield Chardonnay Dutton Ranch Russian River Valley
"Hints of Meyer lemons and Red Delicious apples wrapped in a minerally coverlet provide the focus for this well-fruited, lively, youthful Chardonnay, and while the wine is plenty tight in structure, it is surprisingly mouthfilling at the same time. Its racy style will remind some of White Burgundy yet there is Sonoma writ large on its fruit, and, it is confirmation that some sites here can produce restrained yet well-filled interpretations of the grape in willing vintages."
93 points -- Connoisseur's Guide to California Wine

"Pale gold in color. Luscious aromas of tropical lemon zest, nectarine and orchard pit, a light trace of new wood vanilla. Rich and juicy on the attack, with luscious tropical fruits, laced with pineapple, still high-toned and wonderfully mineral. Seamless on the finish, with superb Burgundian persistence and freshness, long and crisp. Drink now for its primary fruit flash or age for 5-7 years on a cool cellar."
-- WineAccess Travel Log


By law, wine may ONLY be shipped to the following states: AZ, CA, CO, CT, DC, FL, GA, IA, ID, IL, KS, LA, ME, MI, MN, MO, NC, NE, NH, NM, NV, OH, OR, PA, SC, TN, VA, VT, WA, WI, WV, WY.