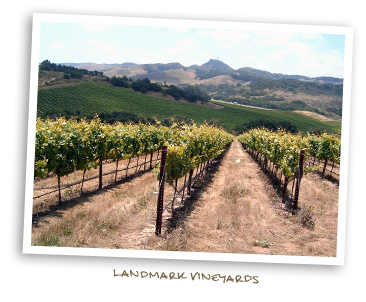 Eric Stern's 94pt Swan Song



For two decades Eric Stern turned out a bevy of Landmark Chardonnays and Pinot Noirs that captured the imagination of every critical voice in America. Stern had a deft approach to the Burgundian varieties, drawing fruit from somewhat warmer vineyard sites, always nursing a hint of restraint into Landmark's luscious whites and reds.

Stern's last complete vintage at Landmark would be 2009. An avid cyclist, he'd finally hang up his pipette to spend his summer afternoons pedaling through wine country in lieu of trekking Sonoma's vineyards. Stern would save the best for last. But when we spoke to Eric about his last Pinot Noir Grand Detour, as always, the quiet, self-effacing Pinot-wizard would deflect all attention away from himself. "I've been at Landmark since the late-1980s and I've done some work of which I'm very proud," Eric told us. "But the truth is, these 2009s were made by Nature. I just came along for the ride."

The latter part of winter, and then the beginning of spring, were warm and dry, getting Stern's Pinot Noir vines off to a fast start. The summer was generally cool, and most importantly, absent of the heat spikes that punctuated July and August of 2008. With the cool temperatures, as September approached, many worried that the sugars were lagging behind. Heavy rains in early October would have been disastrous. But "Nature had other ideas." In late September, temperatures rose, as if on queue, pushing the tiny berry clusters to perfect physiological ripeness -- and an early October harvest that would rank among the top two or three of Stern's storied career.

Greg Walter's Pinot Report stands side by side with Stephen Tanzer's International Wine Cellar, as the stingiest critics in America. But when it came to Eric Stern's Grand Detour swan song, even Walter couldn't hold back, lobbing on a rare 94-point rave.

The 2009 Landmark Grand Detour is dark ruby to the edge, infused with red raspberry and black cherry aromas, tinged with sweet spices and Earl Grey tea. One of the richest and most bombastic Grand Detours ever, the attack is exotic, packed with crushed red fruits and black cherry. Velour-like in texture, but like all Stern's Pinots, don't be afraid to lay this one down for a half dozen years.





Tasting Notes



2009 Landmark Vineyards Pinot Noir Grand Detour Sonoma Coast
"Medium-deep ruby color; bright, spicy cherry aromas with some herbal notes; bright, juicy red cherry flavors; lots of spice and anise notes; sweet oak; silky texture; good structure and balance; long finish. Delicious. 94 points."
94 points -- The Pinot Report


By law, wine may ONLY be shipped to the following states: AZ, CA, CO, CT, DC, FL, GA, IA, ID, IL, KS, LA, ME, MI, MN, MO, NC, NE, NH, NM, NV, OH, OR, PA, SC, TN, VA, VT, WA, WI, WV, WY.