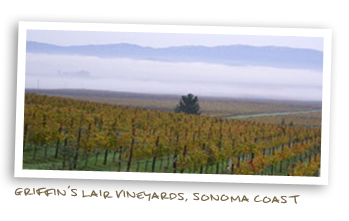 Pinot Noir Gamble at Griffin's Lair



The finest top pedigree Pinot Noirs of Sonoma Coast -- Morlet, Peter Michael, Dutton-Goldfield, Kosta Browne and Kistler -- have much in common. All come from fog-shrouded spots where freak growing seasons like 2009 provide for extravagant wild berry ripeness matched with bracing, cool climate acidity. The vineyards that account for these rarities are obsessively farmed by growers who are paid handsomely to throw caution to the winds that blow off the San Pablo Bay, pushing out sparse clusters of less than two tons per acre -- BB-sized berries of electrifying concentration. But of all these prized patches, few hold a candle to one spot at the mouth of the Petaluma Gap -- just 17 acres at a place called Griffin's Lair.

Just a small handful of wineries enter into the annual bidding war for the few tons of Pinot that come off Griffin's Lair each year. One of the first to adopt this hillside as its own was a micro-winery called Longfellow. Back in 2002, before any of the biggest names on the coast came calling, partners Craig Whitney and Mark Smith made the trek down to the Petaluma Gap on a tip from their winemaker, Rolando Herrera (now of Mi Sueno fame). What they saw took their breath away. And before they climbed back into their 4x4 to head back up the coast, they'd contracted for just 6 short, terraced rows that would eventually provide for one of the greatest cult Pinot Noir secrets on the coast.

In order to best understand what so mesmerized Whitney and Smith -- well before Spottswoode, Arnot-Roberts, Wind Gap and finally, Kosta Browne followed suit -- you need to do as we did. In August, at mid-morning, follow Craig south from Occidental. Make sure you get to the Petaluma Gap by eleven. Stand at the top of Griffin's Lair and watch as the fog lifts and both Mt. Tamalpais in Marin County and Mt. Diablo in the East Bay peek out from behind the clouds. Feel the wind pick up off the San Pablo Bay, ushering the fog away, giving way to blue skies and hot sunshine. Maybe then, you'll come to understand how Griffin Lair clusters awaken to gray skies and fog, are then warmed by the hot summer sun, just as those brisk maritime breezes pick up -- only to shut down again during the chilly, coastal night. In the long, cool 2009 growing season, this climatic script accounted for some of the richest, most darkly concentrated Pinot Noirs of the decade -- few of which hold a candle to this ultra-ripe effort from Longfellow.

"When we first came down here," Craig told us as we stood atop Griffin's Lair, watching the fog clear, "we wondered if the Griffins were visionaries or just riverboat gamblers. No one had yet conquered the Petaluma Gap, let alone tamed it. Pinot Noir seemed like a crazy gamble." Then Craig laughed. "But now, when you see who's buying their fruit -- and who would like to but can't -- no one sees it that way any more."

If you like your Pinot Noir lean and earthy, absent excessive opulence, it's probably best to stay away from Herrera's dark ruby, juicy 2009 Longfellow Pinot Noir. But if your collection now includes our favorites from Dutton-Goldfield, Luc Morlet and Peter Michael, from this harvest that many consider to be the richest, most lavish, berry-infused growing season in memory, you'll be hard-pressed to find another 2009 of comparable pedigree for anything that approaches today's offer price.

Deep, dark ruby in color. Luscious aromas of wild raspberry and black cherry, lightly laced with new wood vanilla. Rich and massively concentrated on the attack with a luscious core of plum and wild raspberry jam. Satin-like in texture, still bracketed by fine, coastal acidity, holding all that opulence in perfect balance.





Tasting Notes



2009 Longfellow Pinot Noir Sonoma Coast
"Deep ruby to the edge. Dark, juicy aromas of black cherry and wild raspberry, lightly laced with new wood vanilla. Big, mouth-filling and voluptuous on the attack, packed with crushed red berry jam, silken and lush. Despite all the 2009 opulence, the finish remains firm and persistent, buttressed by the bracing acids stemming from those cooling maritime breezes. Drink now for the primary fruit decadence of it all, or age for up to 5 years in a cool cellar."
-- WineAccess Travel Log


*Important Shipping Information
Orders will begin shipping the week of May 28, 2012.
You will be provided with the exact shipment date during checkout.
By law, wine may ONLY be shipped to the following states: AZ, CA, CO, CT, DC, FL, GA, IA, ID, IL, KS, LA, ME, MI, MN, MO, NC, ND, NE, NH, NM, NV, OH, OR, PA, SC, TN, VA, VT, WA, WI, WV, WY.