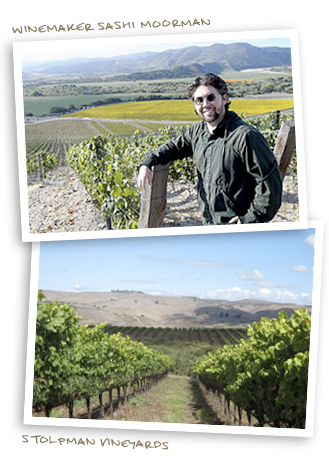 A Strong Throw from Screaming Eagle



In the spring of 2008, Pete Stolpman drove us to the very top of a now familiar hill, just to gain the lay of the land. He pulled over to where a lonely picnic table sits beneath that big, old oak tree. Over focaccia sandwiches and a dozen bottles of Sashi Moorman's 2007s, it wouldn't take long to understand what had so mesmerized Robert Parker, Stephen Tanzer and the guys at Screaming Eagle.

The story began eighteen years before, in 1990, when LA attorney Tom Stolpman stumbled upon 150 virgin acres in Ballard Canyon. Infected by the winegrowing bug, Stolpman did what everyone in Santa Barbara County did at the time. He called Jeff Newton and asked the viticulturalist to do the soil studies.

Newton dug dozens of pilot holes. Then, he drew soil samples. A week later, Jeff drove down to LA with a report that would change the face of California Syrah. The soils were fine and gravelly, offering perfect drainage. But more importantly -- and surprisingly -- the hills were packed with large chunks of limestone. A month later, Tom Stolpman pulled the trigger.

Between 1990 and 1997, every Stolpman cluster was sold to Manfred Krankl at Sine Qua Non and Adam Tolmach at Ojai. A few years later, Stolpman was ready for his second plunge, hiring the brilliant Sashi Moorman (Tolmach's protégé) to push the envelope on estate Syrah. By 2004, Moorman's lavish, black fruit Syrahs, so gorgeously chiseled by the limestone substrata, had stolen the hearts of Robert Parker and Stephen Tanzer -- none of which was lost on the intelligentsia at Screaming Eagle.

If your winery's name is Screaming Eagle and your pockets are as deep as the San Francisco Bay, you can pretty much buy whatever you want. An NBA franchise? No problem. A Pauillac First Growth? A slice of Vosne-Romanee? Piece of cake. But when Napa's most aristocratic proprietors got the tip on a couple hundred Ballard Canyon acres adjacent to Stolpman Vineyards, first they called in their own vineyard crew. Then, they purportedly conducted a retrospective tasting of Stolpman Vineyard Syrah. A short time later, Screaming Eagle's La Jonata was christened, a strong centerfield throw from our picnic table under the old oak tree.

Since 2008, we've featured four vintages of Moorman's luscious Estate Syrahs. On that first offer, members were cautious. The second would be stronger. Fueled by a cascade of 5-star reviews, subsequent missives took off like rocket ships. By the end of 2011, no $20 bottle in WineAccess history had so lit up the scoreboard at HQ, with a whopping 292 buyers rating the 2007, 2008 and 2009 a perfect 5 stars.

But as Moorman is first to say, none of those hold a candle to the estate Syrah from the greatest vintage in Ballard Canyon history. In the unusually cool, drawn-out growing season of 2010, the small Syrah clusters reached phenomenal physiological maturity without sacrificing a gram of acid backbone. "2007-2009 were rich and dense, but they may have lacked a bit of elegance," Sashi told us. "In 2010, we came as close as I ever imagined to Hermitage."

The 2010 Stolpman Estate Syrah is deepest ruby to the edge, infused with vibrant aromas of crushed black fruits and black cherry, laced with sweet coastal herbs. The attack is at once terrifically concentrated and marvelously restrained -- taking a page out of an awfully juicy Hermitage book -- packed with small black fruits and plum, tinged with white pepper. The finish is textbook. Piercing, lively and persistent, arguing eloquently for a five-year slumber in a cool cellar.





Tasting Notes



2010 Stolpman Vineyards Syrah Estate Grown Santa Ynez Valley
"(a blend of this winery's syrah blocks; includes 3% viognier): Good dark red. Aromas of blueberry, crushed black raspberry, brown spices, smoked meat, mocha and cocoa; smells like a northern Rhone wine from granite soil. Firm and energetic in the mouth, offering a nice balance of fresh dark fruits and smoky minerality. Bright acidity and a note of black pepper give the palate a zesty quality. Finishes lightly saline, juicy and persistent, with spicy tannins."
91 points -- Stephen Tanzer, International Wine Cellar


By law, wine may ONLY be shipped to the following states: AZ, CA, CO, CT, DC, FL, GA, IA, ID, IL, KS, LA, ME, MI, MN, MO, NC, NE, NH, NM, NV, OH, OR, PA, SC, TN, VA, VT, WA, WI, WV, WY.