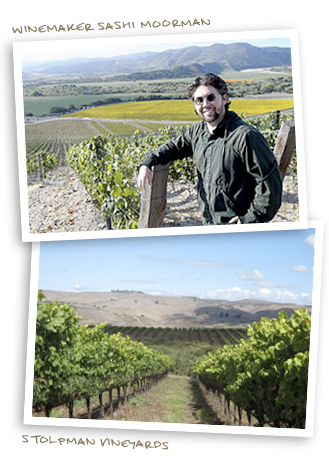 A 92-94pt Homage to Beaucastel Blanc



In the mid-1980s, the most revered name in the southern Rhone came to California in search of vineyard land. The Perrins, owners of Chateau Beaucastel, studied the coast diligently, evaluating microclimates, exposition and soil type, culminating in the purchase of a large spread in Paso Robles, now known at Tablas Creek.

But before the Perrins pulled the trigger in Paso, they made an early bid for a several hundred acre parcel nestled in a limestone strewn canyon east of Santa Barbara. The spot was bathed by summer sun, yet still cooled by afternoon maritime breezes. While the purchase was never consummated, many viticulturists today argue that it was here, in Ballard Canyon, that Beaucastel had the best shot at equalling their Chateauneuf-du-Pape perfection.

Three years later, in 1990, LA attorney Tom Stolpman acquired that 142-acre ranch. He hired Jeff Newton's vineyard crew to conduct soil studies, digging pilot holes into each hillside. The limestone content of the soil, so common to all the great wines of France and Piemonte, was unique to California. Newton confirmed what the Perrins had already discovered. Ballard Canyon, and particularly this stretch of the canyon, was unusually suited to growing Rhone varieties.

Then Stolpman did one better, seeking out the Perrins and purchasing their Chateauneuf rootstock, none more precious than the grafts applied to seven center-cut acres at the heart of the property.

If you've never tasted Beaucastel's Chateauneuf-du-Pape Blanc Vieilles Vignes, you need to head to Vegas and hit the jackpot -- or steal your way into Tom Stolpman's personal cellar. The Perrins produce just 6,000 bottles per year of this exotic 100% Roussanne. Typically faintly golden in color, the aromas and flavors combine a one-of-a-kind mix of apricot, lime and honeysuckle, the most exquisite white wine of the southern Rhone is one of the only dry white wines this side of Montrachet to earn a perfect 100pt score from Robert Parker, Jr., who called it "an out of body wine tasting experience."

"We planted the Roussanne just a year before Sashi (Moorman) came on board. Sashi's knowledge of the white wines of the Rhone was encyclopedic, but he didn't have my Dad's budget. It didn't take long for Sashi to get my Dad to start popping corks. When they got to the Beaucastel Vieilles Vignes, Sashi first conceived of L'Avion."

Moorman's first release of L'Avion would be in 2003, a blend of 90% Roussanne, 8% Viognier and 2% Sauvignon Blanc. But as the Roussanne planting came of age, bunches reaching optimal ripeness late in the growing season, slowly, Sashi backed away from the Viognier. It would take seven years for one of the most talented young winemakers in California to strike gold, but finally in the unusually cool 2010 growing season, Moorman would wait until mid-November to harvest russet-colored clusters, crafting a brilliant pure Roussanne that he described as 'an homage to Beaucastel Blanc.'

The 2010 Stolpman L'Avion is 100% Roussanne. Brilliant pale straw in color, the aromas alone are worth the price of admission. The nose features a luscious mix of honeysuckle, apricot, nectarine and underbrush. The attack is rich, weighty and voluminous, taking an exotic page out of that Beaucastel script, infused with tropical fruit intensity, bracketed by fine limestone acidity.





Tasting Notes
2010 Stolpman Vineyards Roussanne L'Avion Santa Ynez Valley
"Mint, honeysuckle and nectarine are some of the many notes that flow from this beautifully layered, impeccable wine. The 2010 has great balance and textural finesse. In 2010, the fruit was harvested in mid-November, which is very late. The wine was fermented in new puncheons. I also tasted the 2004 and 2007. While the Avion can age, it isn't clear to me the wine gains much complexity after more than a few years in bottle. Anticipated maturity: 2012-2016."
92-94 points -- Robert Parker's The Wine Advocate

By law, wine may ONLY be shipped to the following states: AZ, CA, CO, CT, DC, FL, GA, IA, ID, IL, KS, LA, ME, MI, MN, MO, NC, NE, NH, NM, NV, OH, OR, PA, SC, TN, VA, VT, WA, WI, WV, WY.