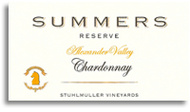 An Under-$20 Chardonnay Caveat



Just because we don't answer, it doesn't mean we're not reading. We know that quite a number of our members don't share our predilection for the oyster shell sinew found in the cold climate Chardonnays of the Sta Rita Hills. Instead, they prefer their Chardonnay bold, tropical, and powerful -- mouth filling renderings that trade a bit of vibrancy for full throttle concentration.

On the surface, that appeared to be a pretty easy order to fill. Just head up-valley, to where the northern quadrant of Russian River meets warmer Chalk Hill. Pick any of the top vineyards in that sweet little spot and you're pretty much dialed in. But as it turned out, the request came with an under-$20 caveat. And that's why you haven't heard a peep out of us -- until today.

When Jim Summers decided to pair his gorgeously concentrated, full bore Cabernet Sauvignon -- the one that earned him 92 points from Parker in 2008 -- with a Chardonnay "Reserve" of similar makeup, it didn't take him long to figure out who to call. While Summers shared Steve Kistler's and Luc Morlet's predilection for the tight clusters and scintillating aromatics of the old Wente Clone, he had no intention of going head-to-head with the cold climate, haute cuisine protocol of the masters. Instead, he decided to push further north up the Russian River Valley to the place where Russian River meets warmer Chalk Hill. Once there, he dialed up his friend Fritz Stuhlmuller, whose own Wente Clone Chardonnays have lit up The Wine Advocate scoreboard for several years running.

Further south at Dutton Ranch, the Chardonnay vines are often fog-shrouded, protecting them from the afternoon heat. Up here at Fritz's place, however, the nights are cool but the days warm, providing for a very different varietal makeup. In 2008, Summers contracted for just 20 tons of Stuhlmuller fruit, a decision that proved prescient in the last cool weeks of that superb Chardonnay growing season. But by Summers's own admission, his good fortune with Fritz's vines was hardly matched by similar luck in the marketplace.

The 2008 Summers Chardonnay Stuhlmuller Vineyard "Reserve" is pale golden in color. Purest green apple on the nose, with a hint of tropical fruit, not overly muddled by new wood flash. The attack is rich and powerful, densely concentrated, packed with bold apple/pineapple flavors, juicy and forward. Still, it's not as if Summers left the Russian River vibrancy on the table. The Wente Clone finish here is wonderfully refreshing and firm, bracketing all weight with lemon zest crispness.





Tasting Notes



2008 Summers Chardonnay Reserve Stuhlmuller Vineyard Alexander Valley
"Pale gold in color. Gorgeous, pure aromas of ripe apple and pineapple, barely touched by new wood vanilla. Rich and powerful on the attack, packing a big mouthful of apple/pear concentration, weighty and powerful. A fine, firm, lemon zest finish brackets all that tropical fruit opulence. Drink now for its still primary fruit juiciness, even if this one is still a baby."
-- WineAccess Travel Log


*Important Shipping Information
Orders will begin shipping the week of May 21, 2012.
You will be provided with the exact shipment date during checkout.
By law, wine may ONLY be shipped to the following states: AZ, CA, CO, CT, DC, FL, GA, IA, ID, IL, KS, LA, ME, MI, MN, MO, NC, ND, NE, NH, NM, NV, OH, OR, PA, SC, TN, VA, VT, WA, WI, WV, WY.