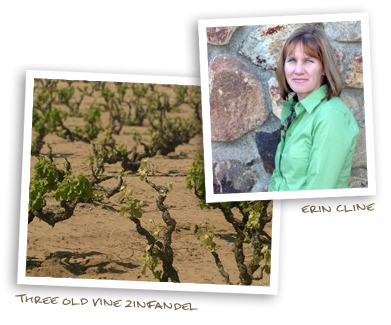 The Bronx Buzzsaw



We locked into this one last November, but bottle age was clearly going to be this ancient vine Zinfandel's friend. So we asked Matt Cline if we could wait until spring to offer what the winemaker believed to be his finest Old Vine release in 25 years off the beach sand soils of Oakley. We agreed on the price ($14.99) and the date (May 22, 2012). Then we went back to the phenomenal concentration of this signature Zinfandel and the oversized Riedel.

The average age of the vines is 105 years. In the mild, dry summer of 2009, those ancient plants put out less than 1.5 tons per acre of juicy, small berry clusters. At harvest, physiological maturity was near perfect. Sugars were marvelously in check, providing for the rarest Zin combo of luscious crushed blackberries and violets, refreshing acidity, all bracketed by sneaky tannins that argue for a lengthy stay in a cool cellar.

Except for the final sign-off, that should have been that. We emailed last week to confirm quantity. 150 cases. Not enough. But ok, we'd take it. We sent a reminder of the $14.99 price, the same as last year -- even if this 2009 smokes the fine 2008. Then we waited for the confirmation. We never saw the Bronx Buzzsaw coming.

We've known Matt Cline for years. His wife, Erin, is a charmer, albeit a Yankees fan. The three girls -- when they're not pulling their mother's strings -- are a delight. We've walked the Delhi sand of Oakley dozens of times with Matt, shared all-you-can-eat $7.99 roast beef lunches at Mac's Old House. Back in 2007, Matt and Erin were launching "Three" just as the Dow collapsed. The Clines came to WineAccess for help, and we stood tall. Thousands of cases of these deep, dark, low pH reds, drawn from incredible century old vines planted in the early 1900s by guys named Lucchesi, Spinelli and Evangelho, made a beeline for member cellars.

We told our membership that the Three Old Vine Field Blend, and this staggering Old Vine Zinfandel are among the greatest under-$15 bargains on the coast. The ratings that poured in from buyers corroborated our view. Over the last two years, those two wines have garnered 797 4- and 5-star ratings from buyers, and more glowing reviews than any like-priced ancient vine reds from either side of the Atlantic.

But maybe we should have put away our critical bullhorns. Perhaps we came on too strongly, alerting too many to what would have better been kept a secret. In retrospect, as we justifiably sang Matt's Zinfandel praises, we may well have been working against our best interests. Here's why.

Over the last year (perhaps fueled by our stories??), "Three" took off. The tasting room in Clarksburg is hopping. Wholesalers in 20 states have awakened to the sensational lively concentration of these old vine gems. "Three" Zinfandel has suddenly started popping up not only in the fine wine boutiques of NYC but in gastronomic palaces like Boulud Sud, Gramercy Tavern and Hearth.

So last week, when we emailed Erin the reminder of our May 22 date with this purple/black Old Vine Zinfandel from that superb 2009 growing season in Contra Costa, we didn't get the quick reply to which we're accustomed. We emailed again. No response. Smelling a rat, we called. That's when the woman who tracks CC Sabathia's ERA and WHIP on her desktop (maybe it's the Yanks slow start that accounts for all of this?), gave us the news we wish we'd never gotten.

"Guys, we can't do the case price any more. Sales are great. The tasting room is hopping and we've raised the price on the oh-nine to $22/bottle. If you go out at 15 bucks, and you send out 400,000 emails, we're just shooting ourselves in the foot."

Huh? So what? Learn how to walk on the other foot. "Hold on, Erin. We settled on this six months ago with Matt. Plus, we hate to bring this up … but when you needed us, we came through in spades." Now we were getting worked up. We've heard this story far too frequently of late, and couldn't hold our tongues. "Where'd you pick up the case of selective amnesia?"

Erin is from North Jersey. When provoked, she shoots from the hip. She let fly. She told us how they'd bitten the bullet for too long (true), how everyone who came to the tasting room comments on 'how cheap we are' (probably true as well). Then we got the litany (bring out the violins!) about the 2009 vintage, this being the greatest old vine Zin Matt's every made. Yada. Yada. We listened to Erin's rant for ten minutes, tried to slow her down, if only to douse the fire. We listened for five more, but the saw was still buzzing. Finally, we gave up -- and hung up. Maybe we'd try back later if the Yanks took three from the Rays.

Did we blow it? Almost, but not quite. The call back came from the more diplomatic Cline twenty minutes later. Matt confirmed all that Erin had said. "Three" sales are great. The tasting room IS hopping, and the price of the 2009 is up to $22/bottle. But despite all that, Matt hadn't forgotten our roast beef lunches at Mac's, our treks through that Delhi Sand. Nor had he forgotten those early days when "Three" needed to be bailed out, we showed up with buckets.

First, a thank you to Matt for honoring his November commitment. Second, an apology to Erin who, much as we didn't like to hear, called it as it lied.



Tasting Notes



2009 Three Wine Company Old Vines Zinfandel Contra Costa County
"Deep purple/black in color. Explosive aromas of blackberry bramble, violets and licorice, spiked with sweet herbs. Rich and expansive on the attack, packed with blackberry, wild cherry and plum, remarkably sleek due to the mild summer, with silken mouth feel, and a beautifully chiseled, supple tannin finish. Drink now -- hard not to -- or age until 2018."
-- WineAccess Travel Log


*Important Shipping Information
Orders will begin shipping the week of June 4, 2012.
You will be provided with the exact shipment date during checkout.
By law, wine may ONLY be shipped to the following states: AZ, CA, CO, CT, DC, FL, GA, IA, ID, IL, KS, LA, ME, MI, MN, MO, NC, ND, NE, NH, NM, NV, OH, OR, PA, SC, TN, VA, VT, WA, WI, WV, WY.