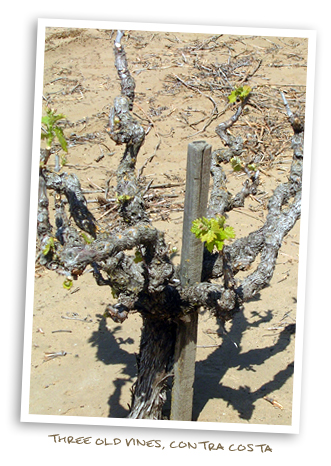 Of Skeptics and the Best Under-$15 red on the Coast (No Contest)



You have to love the skeptics. When we rave about a wine that no one's ever heard of -- writing that this "is the best under $15 red wine in California … BAR NONE!" -- we're slammed with emails. Some take pot shots, calling us hucksters or worse. Others are more tactful, demanding more specifics. But the truth is, we love those emails. Keep 'em coming. They're fuel for our fire.

When families named Jacuzzi, Spinelli, DelBarba and Evangelho first set foot on the port of San Francisco, they'd been at sea for over a month. They couldn't very well hail a cab into which they could pile their families and belongings, as Henry Ford was just manufacturing his first motorcar. Largely, they were farmers, accustomed to agrarian life. But they'd just arrived in a young, bustling city, where people were speaking a language they couldn't understand, and where a cold fog made it impossible to grow the fruit these Italian and Portuguese immigrants had farmed for generations.

The fathers found jobs in town, doing whatever they needed to do to put food on the table. Still, these farmers couldn't escape their European roots. Little by little, they began searching for a place that was first, sufficiently close to San Francisco (they couldn't give up their day jobs with so many mouths to feed), and second, warm enough to cultivate vines. They found it a boat ride away on the Delhi beach sand of Contra Costa County.

Most worked fourteen-hour days but were paid for just eight. The remaining time was spent picking up Carignane, Mourvedre and Zinfandel cuttings in Sonoma, then making the trek back down to Oakley with garden tools in hand, carving those cuttings into the dunes, nursing young vines to life.

There were two reasons why the spots closest to the Bay were most prized. First, the closer to the Bay, the shorter the trip from San Francisco. But second, the Italians and Portuguese knew all about vineyard work under a hot sun. Contra Costa was mostly free of fog, and summers could be as warm as those of Calabria. By staying closest to the Bay, the cool breezes off the water offered a respite.

Little thought was given to the early work of the Evangelhos and Spinellis for decades. But in 1985, a young graduate of UC Berkeley and then UC Davis, returned to his family's roots in Oakley. His name was Matt Cline. His grandfather's name was Valeriano Jacuzzi.

Over the course of the next few years, the brilliantly inquisitive Cline studied Contra Costa's grape growing history, made friends with third generation farmers whose vineyards had been planted on original rootstock at the turn of the 20th century. And one by one, Cline made old school handshake deals with each, laying claim to hundreds of acres of what are now 100+ year old bush plants, all of which squeeze out just few clusters per year of some of the most stunning BB-sized fruit on the coast.

For years, Matt's wines have mesmerized us with their combination of absolutely voluptuous red and blue fruit density, juiciness, and ethereal old vine aromatics. So when readers emailed in, questioning our claim that Cline's Old Vines Field Blend is the #1 red wine in America under $15 (and a top contender under $20), we just smiled, wallowing in the electronic skepticism. Then we came right back at them, just as we are today.

To the skeptics: tell us about another bargain that's drawn entirely from manicured, gnarly, 110-year-old head-trained vines, each planted by the Bay, spidering out close to the sand to protect themselves from that steady breeze. Give us another example of a bottle, which in the phenomenal 2010 growing season -- the coolest in thirty years in Contra Costa County! -- offers so much voluptuous, lavishly concentrated, high-toned red fruit beauty, all bracketed by spicy sand soil high tones? Cat got your tongue? Come on. Make our day!

Matt's 2009 Three Old Vine Cuvee was the highest rated under-$15 American red of 2011, garnering a whopping 150 four and five-star ratings and reviews. The 2010 smokes the 2009. Dark purple in color, with aromas featuring the crushed blackberries of Evangelho Zinfandel, the raspberries and violets of Spinelli Mataro, and the heady cassis of the Lucchesi Carignane. Lightly dosed with ancient vine Cinsault. The ancient vine attack is wild berry ripe and concentrated, dense and chewy, a voluminous red and black fruit gumbo, all buttressed by supple tannin verve.



Tasting Notes



2010 Three Wine Company Old Vines Field Blend Contra Costa County
"Dark purple in color with aromas featuring crushed blackberries, violets, a splash of raspberry liqueur, and plenty of sweet herb high tones. Phenomenally rich on the attack, but still elegant and sophisticated, speaking to the deep roots of these 110+ year old plants. Packed with wild blueberries, ripe raspberries and cassis, dense and chewy, all buttressed by old vine, supple tannin cut. Drink now or age for 5-7 years in a cool cellar."
-- WineAccess Travel Log


By law, wine may ONLY be shipped to the following states: AZ, CA, CO, CT, DC, FL, GA, IA, ID, IL, KS, LA, ME, MI, MN, MO, NC, NE, NH, NM, NV, OH, OR, PA, SC, TN, VA, VT, WA, WI, WV, WY.