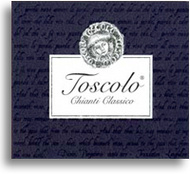 92pts and Suckling's Tuscan Return



When James Suckling, the Wine Spectator editor long responsible for the magazine's extensive coverage of Tuscany, flew the coop, many wondered if the critic wasn't ready to sit back and spend his waking hours tasting through his exhaustive Brunello collection. But as it turned out, Suckling wasn't quite ready for a life of leisure.

Soon after Suckling and Spectator parted ways, the most influential Italian wine critic the magazine's ever known hung up his own shingle, determined to raise the high bar he'd long set for himself. Now able to march to the beat of his own drummer, Suckling attacked the cold soils of Chianti Classico and the undulating slopes of Montalcino with new resolve. Collectors were paying close attention.

The editor's report on the warm, voluptuous 2007 vintage in Brunello sent retailers into a tizzy, sucking wine out of Montalcino cellars at record velocity. But others looked to James for bargains, as they always had during his years with Spectator. Though he's generally loathe to drop high scores on bottles carrying pedestrian price tags, bargain hunters looked for Suckling's outliers. In the superb 2009 vintage, they'd find one in famed consulting enologist Franco Bernabei's juicy Toscolo Chianti Classico.

Bernabei is one of the region's most storied winemakers, much credited for the critical ascent of Fontodi, Felsina and Molino di Grace. A strong proponent of tight spacing, clonal selection and low yield rigor in the vines, Bernabei's Tuscan signature features ripe, wild berry Sangiovese flamboyance, fleshy texture and fine high-toned persistence. With the 2009 Toscolo, the winemaker to the Tuscan stars would hit the trifecta.

Dark ruby to the edge, with sexy aromas of bright red fruits and plum, tinged with sweet Tuscan herbs. Rich and juicy on the attack, filled with almost New World red fruit succulence, it's Bernabei's brilliant finishing touch that brings this luscious, utterly quaffable Chianti Classico into dynamic focus.

Truth is, we would have been far better off had Suckling rode off into the Siena sunset. The critic with a reluctance for doling out big scores on bottles sporting pedestrian price tags went gaga. His 92pt addendum to the 2009 Toscolo review single-handedly shrunk our allocation from 1800 bottles to 840.





Tasting Notes



"Bright ruby to the edge, infused with juicy, wild raspberry aromatics tinged with sweet Tuscan herbs. Lush and forward on the attack, filled with almost New World red fruit opulence, it's the exacting persistence of the Bernabei's finish that puts this one into such chiseled focus. Drink now for its primary fruit hedonism or age for up to three years in a cool cellar."
-- WineAccess Travel Log


By law, wine may ONLY be shipped to the following states: AZ, CA, CO, CT, DC, FL, GA, IA, ID, IL, KS, LA, ME, MI, MN, MO, NC, NE, NH, NM, NV, OH, OR, PA, SC, TN, VA, VT, WA, WI, WV, WY.