Franciscan Cabernet Sauvignon Napa Valley
Begin Your Search
---
WineAccess Travel Log
---
Read stories from the world's greatest wine trails.
More About This Wine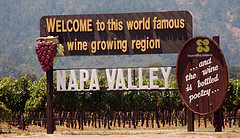 Related Products
---
Other Wines from this Producer and Vintage
This product has not yet been reviewed by the experts.
---
Shop Similar Expert Rated Wines:
Your Rating & Review
37 Member Ratings
Average Member Rating: 4.0 out of 5 stars
| | | |
| --- | --- | --- |
| | | |
| 5 stars | | (11) |
| | | |
| 4 stars | | (17) |
| | | |
| 3 stars | | (7) |
| | | |
| 2 stars | | (2) |
| | | |
| 1 stars | | (0) |
| | | |
Member Notes
A wonderful California Cab
12/30/2007
by Witkowski12594314
Excellent cab with lots of character. Decanting will open it up and bring out the full flavors. Could sip this one all day long. For the price you can't go wrong.
Great Cab
03/15/2007
by Gentry12314381
This is the wine that made me start liking red wine. I had never been a big fan until a friend gave me a bottle of Franciscan for Christmas several years ago. I have branched out since then, but this is still my favorite. Smooth and oaky, it's just delicious, and also a great bargain. I highly recommend it!!
It's been our favorite Cab
05/25/2006
by oberman64
When we first tasted it, we fell in love The 2001 was great year. It has been consistently good since then, too! We recommended it to everyone we meet.
An excellent Cabernet
09/22/2003
by tgennello
I was introduced to the Franciscan by a friend several months ago and it has been a staple in my wine rack ever since. I agree that you should let it breathe for 30-40 minutes before drinking, but it is well worth the wait. It drinks as smooth as silk!!
Always a great choice!
05/29/2011
by Cichocki14067027
Franciscan delivers consistently outstanding reds. No exception here. A great buy.
Great Napa value
08/27/2009
by De Feis13614423
This is relatively inexpensive for a good Napa cab.
A fine, serious wine
06/28/2009
by Bishop13543082
Remarkable nose with almost a Rhoney quality. Excellent construction but a slight bitterness. Finishes well but never smiles. (Vintage 2003, drunk in June 2009)
2004 Napa Valley "Food Wine" Cab
03/16/2008
by Thumper 12141604
This Franciscan offering is a delicious representative of the banner 2004 vintage for Cabernet Sauvignon in the Napa Valley. This wine is a rare example of an American Old World style "food wine." It will pair well with most roasted meat and rich cheese dishes. A tad austere before decanting, there is sufficient fruit and complexity to also serve it as an apertif. The chewy mouth feel and slightly dusty tannins on the bracing finish make it a serious candidate for further cellaring. Repeat buy at an excellent price.
Fantastic ...BEEN BETTER!
11/17/2007
by buckley12551067
I agree with the other reviewer...I LOVE this wine...outstanding price for the flavors....BUT..it's seen better years....02-04....were the good ole years!
Great wine
09/18/2007
by Morales12496305
Still good but it was better a 2 or 3 years ago when they still have not changed the bottle
Good California Cab
09/12/2007
by Bored-O
I'm buying it here from now on, it's $6 more at my other wine store.
Best with ny strip or ribeye
05/22/2006
by 97Brunello
the franciscan cabernet is uncompareable at this price level when paired with a grilled ny strip or ribeye.
big and juicy
12/05/2003
by Jonesy
introduced to this wine by a napa valley local friend and payed $80 for it at a restaurant - at that price it was worth it - at under $20 you should buy a case. It will open up and smooth out after airing it. Very juicy and slight hint of pepper. Staple in my rack now!
Terrific value!
11/25/2003
by Green10504575
This is one terrific value for those of us that love the Oakville and Rutherford area reds. For a fraction of the price of Harlans' and Opus Ones', we get a wine with the same pedigree. It comes from the same area and drinks as well as those $200 bottles. I would load up on this one if you like big rich berry flavors with warm, caramelized oak on the finish. This wine is equally well for plain tasting or a wonderful accompaniment to filet mignon or lamb. Not many wines of this caliber come around at this price.
great wine
05/19/2003
by mcdonald10531699
air it for a while to reduce the tanins. black cherries and plum taste.
a little too tame for my tastes
05/15/2009
by Bullard12005845
This was a good Cabernet with very soft tannins, but it was a bit too tame for me, too subtle. Thought it would offer more as far as nose and flavor. I bought it after drinking the blockbuster Beaucanon Cabernet Franc, which I LOVED!! This one disappointed me. Nice, but won't buy again.
Jaminess
01/10/2008
by Richardson12535214
If you like intense and earthy, then you will like this vintage (2004). It has lots of red and black berries, and lots of fruit lingering on the palate. A little leathery on the end, but a nice buy. Let it open up for about 30 minutes... great with a nice hearty meat stew or filet mignon. There was no "half Star's" so, three and a half would be the rating