NV Delavenne Pere et Fils Brut Rose
Begin Your Search
---
WineAccess Travel Log
---
Read stories from the world's greatest wine trails.
More About This Wine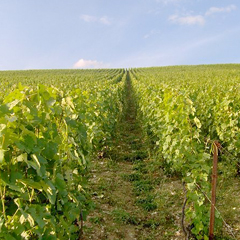 Related Products
---
Other Wines from this Producer and Vintage
($42) Pale orange. Deep, rich aromas of cherry and raspberry are given an exotic twist by blood orange, apricot pit and caramel accents. Lush and silky on the palate, with fresh redcurrant and raspberry flavors and an intriguing salty/sweet quality building through the finish. This is very wine-like, showing an impressive concentration and sweetness of fruit to stand up to richly flavored or spicy foods. (Sussex Wine Merchants, Moorestown, NJ)
91 Points | Wine Spectator
Your Rating & Review
495 Member Ratings
Average Member Rating: 4.12 out of 5 stars
| | | |
| --- | --- | --- |
| | | |
| 5 stars | | (190) |
| | | |
| 4 stars | | (209) |
| | | |
| 3 stars | | (69) |
| | | |
| 2 stars | | (22) |
| | | |
| 1 stars | | (5) |
| | | |
Member Notes
NV heaven
12/22/2014
by Demick14087448
This is one of the finest Rose wines I have ever tasted.. My wife wanted an accounting of the case I received. Wanted it all for herself.. Fantastic!!!
A Beautiful Rose for holiday merry making
04/15/2014
by PinotGrigio/Gris479811
I served this rose to my family and guests during our celebration. Each time a glass went dry i heard calls for more please.Light bubbles, crisp yet that wonderful hint of fruit behind each sip.This will remind you why smaller champagne houses often possess the greatest prize.
great rose
12/01/2012
by rogers13755212
I have purchased this champagne for the last 3 years. The rosé with the 2010 date on it, is drinking absolutely fabulous. I've had for a year now and having just tried against the current cuvee, I can categorically state that this wine improves dramatically with bottle age. The 2010 (not a vintage) has plenty of time left and I am looking forward to the current bottling with a few more months of age on it. Right now, the 2010 designation rivals Billecart-Salmon rosé (my former rosé of choice), while the 2012 designation is still a bit grapey and awkward.
A stunning Pink for the Price
05/12/2012
by HED3
I have had this on numerous occasion and it never fails to please, sweet strawberry and bright fruit it is so good I have to remind myself to slow down when I drink it. Extra nice at $40 a bottle for Champagne!
A real mouthful
01/19/2012
by Beach13807740
Fantastic bottle showing a lot of fruit on the nose and palate (raspberry married with orange?) and lively bubbles. This is great for sipping and very food friendly; it held its own with a variety of dishes at dinner. My wife and guests loved it. Color is deeper than I would have expected, but no complaints from this corner. Wish I had bought more - will certainly keep an eye out for its offering next holiday season!
Bright and Crisp
01/05/2012
by LeHew13282949
Bright and crisp and amazingly bubbly, this wine drinks beautifully and finishes with classic Champagne elegance.
What Pink Champagne should be
03/29/2011
by Milgrom13884306
Hints of raspberry and cassis in the nose, raspberry and toast notes on the palate, dry but with fruit giving just a hint of sweet in the finish, fine mousse that dances on the tongue.
spectacular
03/08/2011
by sussman13849716
wish I had bought more!
Pure Pink Pleasure
03/31/2008
by pourtland,ME
The go-to rose Champagne. It doesn't get much better than this. Lush red fruit supported by warm spice, creamy mousse, and tight acidity. Love the new clear bottle too.
Rose Review
01/03/2008
by chard12594229
This champagne was absolutely delicious,great flavor,body and yeasty goodness. For the price, a great bargain.
Excellent Champagne at any price
12/31/2006
by jhs
This wine is outstanding—rich and fruity up front, it finishes dry and clean. It is equal to or better than any prestige cuvee from a "big name" champagne house.
Very Nice
05/21/2015
by Port585434
Not the sweet Rose` of yesterday. I am a champagne drinker and this bubbly is a nice surprise. I don't like sweet, sweet but appreciate the fuity, dryness of this Brut.
champagne
01/07/2015
by FLAMM14212990
great nose and bubble will buy again
01/03/2015
by Marsanne603730
Outstanding Fresh crisp taste, only problem is I did not order enough
sockeye salmon champagne
12/30/2014
by Malbec221309
Loads of intense fruit with strawberries, yeast, body and tiny bubbles. Loved the long finish
03/03/2014
by Nebbiolo289582
I thought this wine was delightful. My bubbly-drinking guests enjoyed it. Happy to have a few more in my cellar.
I'm not even a Rose lover!!
11/02/2013
by O'Donnell12559727
But this brut rose was extremely enjoyable :). Would buy again!
Good but not Great...
11/28/2012
by Buhl14046243
Maybe my expectations were too high based on my other selections from Wine Access. Raspberry overtones, small bubbles, but as I said...good...not great...
Disappointed
05/13/2011
by muscat12050004
For the price I expected a grat wine but was disappointed to find it somewhat pedestrian. Not much better than wines of its type at half the price.
DMinchow
01/02/2011
by Minchow13675929
This is an excellent Champagne. However, it is difficult to justify the premium price in comparison to premium California sparkling wines, such as Schramsberg.
01/02/2011
by Brown13783705
Was a little disappointed. Expected to be blown away.
Good Bubbly!
02/11/2008
by buckel12369194
I agree with jhs on 5/21/07. It had a nice rich, fruity mouthfeel but still had a nice acidity. So good, I forget what I ate with it. I love the red fruit on the rose champagnes and although I typically drink champagne from the Ay region, I enjoyed this find from Bouzy. Celebrate life, drink champagne for any reason at all!
11/12/2007
by syrah11892405
Jean-Louis Delavenne and his son Jean-Christophe farm 10 hectares in the heart of Bouzy, one of a very few villages in Champagne that can claim Grand Cru status. Located at the foot of the Montagne de Reims these vineyards enjoy nearly perfect southern exposure and yield complex, intensely aromatic pinot noir. The Brut Rosé is a blend of this exceptionally ripe Pinot-from vintages three and four years old-and a small amount of Chardonnay. Dark berry and spice dominate the nose and palate while fine acid and delicate perlage convey the wine's flavors gracefully. Excellent with richer fish and soft-ripened cheeses.
Nice
11/04/2007
by Garcia1961
I am not a Rose person, but this had a wonderful flavor and paired well with machengo cheese
Insufficient minerality for my taste
12/16/2011
by Warnock12063915
Perhaps my expectations were too high, but this Champagne, while good, did not make me wish that I had ordered more. It works better with food - needs more minerality - not the invite-friends-over-for-a-"see-God"-experience that I was hoping for!!