2005 Viader Vineyards & Winery Proprietary Red Wine Napa Valley
Begin Your Search
---
WineAccess Travel Log
---
Read stories from the world's greatest wine trails.
More About This Wine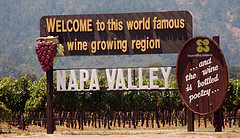 About Viader Vineyards & Winery
Since she released her first vintage in 1989, Delia Viader's flagship Proprietary blend has been an elegant, juicy, harmonious midweight whose sizable Cabernet Franc component contributes blackberry and licorice elements and a pronounced violet character to the core of Cabernet Sauvignon. According to Viader, her success comes from the terroir—a sunny spot at the foot of Howell Mountain—but we know it helps to have a bright mind calling the shots too.
($90; a 69/31 blend of cabernet sauvignon and cabernet franc) Good full ruby-red. Highly complex nose offers currant, plum, blueberry, bitter chocolate and herbs. Suave, silky and downright creamy in the mouth, with lovely breadth and palate coverage. Fresh but harmonious acidity gives this a rather sophisticated texture. In comparison to the easier, fruit-forward 2004, this one is more characterized by its bite and structure.
Your Rating & Review
279 Member Ratings
Average Member Rating: 4.15 out of 5 stars
| | | |
| --- | --- | --- |
| | | |
| 5 stars | | (100) |
| | | |
| 4 stars | | (134) |
| | | |
| 3 stars | | (38) |
| | | |
| 2 stars | | (3) |
| | | |
| 1 stars | | (4) |
| | | |
Member Notes
Keeps getting better
04/29/2012
by petchesky11755345
Drank on NYE. Stunning, not a bomb, but one of the best I have.
Me and my Viader is almost as good as me and my Viagra
04/20/2011
by Murray13787146
Another favorite from day days living in Napa.
Chocolate!
10/01/2010
by mazzilli12720065
Wonderful wine! Awesome flavors/aromas of Chocolate that goes for days! Well crafted artisanal wine.
09/23/2010
by Wine11955847
Viader: consistently excellent
one word only
08/22/2010
by blotner13549916
smooth.......................... i marked this private. not going to share it with anyone!
Nice
06/22/2010
by Lerbs13646560
Smooth, easy to drink, can't wait for next year to see it grow
Special
09/21/2010
by petchesky11755345
wish I could give 4.5 stars. This is a very good wine. Not that big, but complex and has that French thing, that Cali wines like to say they have but never do. I'm glad I have five more.
Let this one breathe for two hours, then enjoy!
07/27/2010
by Martin13759866
This wine needs aerated or let it breathe for at least two hours, otherwise the tannins are heavy. It is deep purple in color, with notes of berry and chocolate. What a fantastic wine. I drank it without pairing it with food so I could enjoy the complexities of the wine.
Viader
07/08/2010
by Dunn10995517
Big and tasty - would buy again
2005 Viader
07/07/2010
by Benz13810028
very nice -intense but not as fruit forward as hoped for from a Mountain wine. I like it very much just the same!!!
08/05/2010
by Gustafson13686882
Disappointing. Never opened up after many hours and remained very one dimensional. Maybe it's in a closed phase now, but there are many other better choices of similar wines out there drinking well.
07/01/2010
by Chiftis13850530
The wine was nice, but if I had paid full price for it I would have been disappointed.