2006 Titus Cabernet Sauvignon Napa Valley
Begin Your Search
---
WineAccess Travel Log
---
Read stories from the world's greatest wine trails.
More About This Wine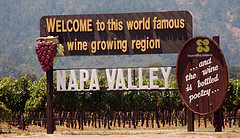 Related Products
---
Other Wines from this Producer and Vintage
Your Rating & Review
197 Member Ratings
Average Member Rating: 3.79 out of 5 stars
| | | |
| --- | --- | --- |
| | | |
| 5 stars | | (44) |
| | | |
| 4 stars | | (93) |
| | | |
| 3 stars | | (45) |
| | | |
| 2 stars | | (6) |
| | | |
| 1 stars | | (9) |
| | | |
Member Notes
Well Balanced
11/24/2009
by Flaherty10498837
Bold, great structure, yet smooth finish.
smooth
01/04/2010
by heggins12054673
Excellent with some grilled filet mignons! The smooth, velvety finish complimented the entire dinner.
Great Character
06/29/2009
by Palmer12353323
I approached this wine with an open mind knowing that it was not Insignia but still excited to see the comparison. Four of us all had the same pleasant "mmmmm" reaction upon our first taste. This wine had a smooth and elegant front end. There was plenty of body, complexity and had well rounded notes. It had a lengthy and ever so slight a tannic finish that only left me wanting another sip. This wine will not let you down. I intend to buy more of this vintage as it is a very good wine and a great value.
Pleasing from the start!
06/17/2009
by board11854233
Titus was without a doubt delightful. Will cellar and enjoy for many years to come. Nice body, and finish. Excellent bouquet, great nose. It needs more time but will be a lot of fun to have around in 11 and 12.
Decant for a day.
06/16/2009
by Caudill12228075
To much anticipation, we opened the new Titus Cab with a dinner of marinated flank steak off of the smoker grill. Too tightly wound and youthful at first...we left half the bottle for the next day. GOOD CALL!!! Decant this baby for a least a whole day, you will be thrilled at the richness and complexity. I only wish I had purchase a whole case as this wine will age very well.
Good, But Not Insignia
05/15/2009
by Alvarez13511899
I've had insignia for years now and the smoothness from start to finish is VERY hard to find in other wines. Titus, does a good job creating a smooth START, but does not the BIG finish (or extremely smooth finish) the insignia does. I think over the next year or two years this wine will mature creating a nicer balance. But for $36 a bottle, it might be a great wine to store away for a couple of years...it might just be a great surprise. Suggestion: Buy a case or a half case, open a couple of bottles over a nice dinner, then store the other bottles away (OUT OF REACH) for at least eight months. I think the 14% alcohol will help mellow the wine a bit and possibly create a nicer balanced wine.
Not What I Was Hoping For
06/16/2009
by Novice Red Fan
This was my first time trying Titus. For the price, I was hoping for deeper more complex cab. Not much of a nose and too strong of a tast for me. I will let my other bottles age a couple years before trying again in hopes for a smoother, taste.
Poor Value
01/26/2010
by House13662149
Tasted this wine soon after opening, and found it offered little on the nose and not much more on the palate. We left the second half of the bottle open many hours to breathe hoping for improvement as suggested in some of the other reviews, but found it was no better. I completely agree with the wine description and tasting notes as described by jlinder1 on 6/19/2009.
Poor value
06/19/2009
by jlinder1
Deep ruby, color hardly changes at the rim Herbaceous fragrance Little or no fruit, whether red or black Predominant vegetal characteristic Green pepper Somewhat coarse No complexity Astringent, but not overbearing, overwhelmed by vegetal flaw Little or no length, not that you want that in a wine like this Score: 85