NV Diebolt-Vallois Blanc de Blancs Brut
Begin Your Search
---
WineAccess Travel Log
---
Read stories from the world's greatest wine trails.
More About This Wine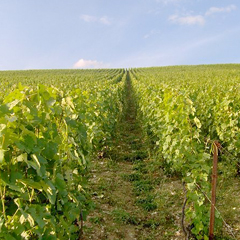 Related Products
---
Other Wines from this Producer and Vintage
NV Diebolt-Vallois Blanc de Blancs Brut
Producer: Diebolt-Vallois
Style: Sparkling
Grape Type: Chardonnay
Origin: France
Region: Champagne

(disgorged May 5, 2013): Pale yellow. Intense, mineral-tinged citrus and orchard fruit scents show very good clarity and a suave, building floral quality. Racy and precise, with vibrant orange, green apple and honeysuckle flavors complemented by anise and bitter quinine nuances. Closes dry and tight, with very good clarity and mineral-driven persistence.
90 Points | Wine Spectator
88 Points | Robert Parker's The Wine Advocate
Your Rating & Review
246 Member Ratings
Average Member Rating: 4.21 out of 5 stars
| | | |
| --- | --- | --- |
| | | |
| 5 stars | | (103) |
| | | |
| 4 stars | | (105) |
| | | |
| 3 stars | | (28) |
| | | |
| 2 stars | | (8) |
| | | |
| 1 stars | | (2) |
| | | |
Member Notes
As good as it gets for NV Champagne
04/06/2014
by Beach13807740
An impressive sipper and even better with food; this is a great example of non-vintage champagne. Excellent price for its quality. I opened my last bottle this weekend and I regret not buying more.
Very good
01/02/2012
by Slemenda12427223
One of the nicest champagnes we've ever tried. Beats several that we've paid over $100/bottle for.
Excellent
09/27/2001
by Tsquared
This is a very good champaigne, excellent according to my wife. We drink about 1-3 bottles a week of champaigne and this is one of the very best, if not the best. Price has nothing to do with it. It's not a good champaigne for the price. It's a good champaigne. Very crisp, clear, and dry.
excellent
02/25/2007
by muscat12270601
we want to buy this one by the case.
A Special Dinner Starter
06/21/2006
by Paul from the Oblong Table
The week before my bride's birthday, I was scouting for a very special dinner starter. A special voice (AS) whispered and pointed to this dynamic bottle. Our dinner was made exceptonally better and was noticed by the staff at Matyson. The entrees were complimented by a 1997 Jordan Cab. Great night, great grapes.
Beautiful
05/10/2006
by ratso222
Forget what the experts say about storing it in the fridge and viberations. Get 1 or 2 and put them in the frig. Take one out whenever it is a special occasion. What a nice bubbly. It is sustaining. Make sure you have the right glasses, and you will be rewarded. Move over White Star.
Delightful Diebolt
01/12/2006
by Thomson11918049
Very satisfying, well balanced taste. Excellent value. We served this champagne 3 years ago for a party and received many compliments from seasoned champagne drinkers. Since then we've kept several bottles close by for those spontaneous moments of celebration. Consistent quality, great taste...Hard to find, I've driven an hour to get this wine and do not begrudge one minute of the journey.
BEAUTIFUL!
12/28/2005
by David Moore
Drank this on Christmas over the course of the day - opened the bottle at noon or so with smoked salmon, etc., left it open all day, and came back to it about 11 PM to finish out a perfect day. If anything, the bottle showed better. Jacques and his family consistently produce the most elegant blanc de blanc in Champagne.
Best $35 bottle Champagne ever
03/19/2005
by syrah11336874
This wine is reportedly the house champagne of the Four Seasons and for good reason. It is a full-bodied but not overwhelming (ala Bollinger) drink, with complex flavor and near perfect balance. A great glass of bubbles!!
Wow
01/08/2005
by Swirl and a sniff
I am not a champagne drinker but this was a treat. I will be buying more!
Da shiznit
02/21/2004
by metrick10461835
One of only a small handful of memorable bottles I have ever had in my life. Buy a case!
I love this
01/26/2004
by cabernet10127065
I will buy several more times
SUPERB
04/10/2003
by bordeaux10158377
This is what champagne is all about!
unexpected surprise
02/03/2003
by reisling10433632
Had to check the price again; it was so good, I thought I'd grabbed a much more expensive bottle.
Great!
12/17/2001
by Wine me?
Tasted amazing, even with our pizza dinner :)
FASTASTIC
09/03/2001
by pinot10092452
Great taste for the price. I'm impressed.
S Sinclair
03/13/2001
by StephenSinclair
excellent
02/23/2001
by Engie
Very drinkable, excellent value.
Beautiful bubbly
06/05/2000
by David McDuff
10/18/2000 -- I'm going to have to update the DV BdB to 5 stars. After serving this champagne at a recent party (and after drinking a decent bit of other bubblies in recent days), I realized just how awesome this champagne is, particularly at its $30 price point. An endless stream of superfine bubbles and light straw color set the stage for one of the most deliciously elegant champagnes that has ever passed my lips. Bravo! 9/1/2000 -- Just shy of five stars for me, and an awesome value-to-dollar wine when compared to other basic NV champagnes. This is a great example -- dry, crisp, lively and perfectly toasty/fruity with a fine mousse -- of the blanc de blancs style.
Great Champagne made entirely with Chardonnay.
03/02/2000
by Peter Meyaart
Great bubbles, fresh white-fruit flavors. A winner.
Magnificent!
06/02/2000
by SK
God, I LOVE champagne! And these people do it right! The fruit is abundant, the bubbles tiny - couldn't be better! Second tasting on 29 September: Magnifique
Outstanding
06/20/2000
by CorkDork
Great freshness and flavor. This wine has such a direct appeal that you don't need to know a thing about Champagne or wine to enjoy it. Medium light in body with great elegance & finesse.
Drew No Blancs
06/14/2000
by Pat McGowan
If Dave Moore says its good , that's good enough for me too !
Best Producer of Bland de Blanc
06/02/2000
by Cabernet5465
Jacques Diebolt grows the best fruit in the Grand Cru of Cramant near Epernay. His Champagne is marked with finesse and delicacy, and is always perfectly balanced. This is hard to find, but well worth the search.
Fantastic NV Champagne
06/04/2000
by Edward Murray
Jacques Diebolt's entry level Cramant Champagne is pale straw in color with a steady stream of tiny bubbles. Restrained aromas of green apples and citrus. Lovely crisp yet soft mousse on the palate, considerable mineral-like length. I forgot how much I missed tasting (drinking) this wine.
Beautiful
06/02/2000
by VinoMan
Great fine nose of slight yeast and a very fulfilling fine body with acidity, freshness and finesse. Small production from great vineyards with intense flavors.
Excellent
02/10/2007
by jhs
focused, tight, and delicious a great bottle for the price. light on the palate, but well structured--very well made wine.
best bubbly!
12/12/2005
by Chris Cree M.W.
This terrific champers has cool, clean almost citrussy nose and is lovely, lively, creamy and elegant on the palate. Is suprisingly persistant given its refreshing nature. A perfect aperitif or with light seafood and app's! NV Blanc des Balncs doesn't get any better!!
Fantastic Balance of Crisp Mouthfeel and complex layers of fruit
04/23/2004
by GreenWave
Enjoyed this tremendous bottle tonight. Perfect for a celebration. Taste and drinks wonderful. My wife and I have enjoyed some of the "safe" Champagne's like Jouet and Mumm. We ejoyed this much more. Fantastic balance, great for a special treat.
Celebrate
03/06/2002
by drmcohen
Doesn't everyone have a bottle of champagne in the fridge? How much does it cost? 20-30 bucks I bet. Well this fits that category. Very tight and dry champagne. It is the type of champagne that people will have an impression about. One way or the other. It is produced by a small vineyard and is boutique enough for the snob appeal of hard to get. I like it cuz it drinks great. Dry not sweet which lends itself to a couple of glasses not the sip and put it down. Maybe I am a lush. This is great to serve with fish; it cuts thru salmon and crusted sea bass or monkfish. Also nice to serve with dessert of dry fruit and cheese.
Crsip, good body , tasty
05/26/2001
by helcha8
My headline says it all. This champagne is a GREAT value for $30. I have to buy more! A little drier than i like but not too dry that i won't add more to my collection.
Flawless and complex
01/03/2001
by chard76205
I probably tried about 6-8 different sparklers between Christmas and New Years, and this was one of the two most impressive (along with V-C Grande Dame). It is crisp and complex, superbly restrained without being severe.
fabulous, light and clear
01/02/2001
by T Harvey & dogs
An excellent wine to serve alone or with cheese. Not too lemony, very light and clean on the tongue.
Great value
10/04/2000
by tokay10012143
This is the second time I have had this champagne. It continues to impress me with its wonderfully small bubbles, somewhat light but very pleasant body with good fruit, and an almost creamy taste. Very nice. I find it to be an excellent value.
Salmon surprise!
07/21/2000
by trialguy
The wine was quite wonderful along with grilled salmon and used in a sauce with shallots, cream and dill. Another Moore Bros. surprise that by this time shouldn't be a surprise!
Great way to end the week.
07/26/2000
by chard51603
Although this champagne is not in the same league as the Diebolt Prestege, it's a great value and should be consumed often. Life is for celebrating!
07/16/2000
by desty
lovely and elegant. green apple on front, apple pie/sauce with toasted almond finish. wonderfully balanced. great buy
Bright Champagne
01/28/2000
by Steve & Margaret
We give this lovely champagne 4 stars because we love it! The first time we had this champagne was at Le Bec Fin. I looked forward to to having it at home to see if it was just our lovely evening at a fine restaurant or a great bottle. We enjoy it with cheese before a meal and with risotto.Buy it by the case!
Pure Chardonnay
06/14/2000
by Winette
The quality and purity of the chardonnay grapes just jumps right out of this wine and smacks you. Excellent, dry, acidic yet balanced.
Very Enjoyable!
06/06/2000
by Cheryl
This is a delicious champagne. Tiny, soft bubbles with a flavor that lasts.
Great bubbles
06/02/2000
by fedsan
Medium dry with lots of small bubbles. Concentrated with a nice fruity finnish
Electric!
04/20/2000
by otter
Super-clean, intense aromas, a rich middle, and smoking acidity is what makes this Champagne for me. It always tastes better with a group of people, although Diebolt BB NV is one of my favorite wines to drink with sushi. Technical note: The wine is now a blend of '95 and '96 wine, from grapes harvested mostly from the grand-cru vineyards of Cramant.
07/18/2009
by LordGondor
odd but interesting taste. Still nor as good as Egly Oriet. Maybe a bit to pricey.