NV Diebolt-Vallois Cuvee Prestige Blanc de Blancs Brut
Begin Your Search
---
WineAccess Travel Log
---
Read stories from the world's greatest wine trails.
More About This Wine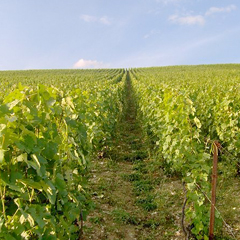 Related Products
---
Other Wines from this Producer and Vintage
NV Diebolt-Vallois Cuvee Prestige Blanc de Blancs Brut
Producer: Diebolt-Vallois
Style: Sparkling
Grape Type: Chardonnay
Origin: France
Region: Champagne

(made from fruit grown in Cramant, Mesnil-sur-Oger and Chouilly; Lot DEG-18-12-12): Light green- gold color. Intensely perfumed aromas of lemongrass, lime zest, quince, smoky minerals and toasty lees. Fleshy orchard fruit flavors are deepened by peach pit and floral tones and braced by a tangy citrus fruit nuance. Fills out on the finish, picking up a note of bitter pear skin and showing excellent mineral-driven persistence and lingering floral character.

91 Points | Wine Spectator
90 Points | Robert Parker's The Wine Advocate
Your Rating & Review
281 Member Ratings
Average Member Rating: 4.28 out of 5 stars
| | | |
| --- | --- | --- |
| | | |
| 5 stars | | (137) |
| | | |
| 4 stars | | (106) |
| | | |
| 3 stars | | (25) |
| | | |
| 2 stars | | (7) |
| | | |
| 1 stars | | (6) |
| | | |
Member Notes
Best champagne I've had
02/10/2015
by Syrah/Shiraz240836
Absolutely perfect.
Great Taste and Great Value
01/13/2015
by Riesling350866
Little sweeter than Dom Perignon but just as smooth. Beutiful champagne and a steal at this price.
Understated class & elegance
07/13/2014
by Beach13807740
Have just ordered more with the latest WA Redux offering. Very refined Champagne that was a bit more open and enjoyable the next day (believe it or not, we didn't finish the bottle the first night since my wife drinks little, if any). Crisp and acidic with lots of fine bubbles and just a hint of sweetness on the finish. Not much of a nose to speak of, which surprised me. Very tasty by itself and fantastic with my Chesapeake crab cakes and grilled Romaine. A reasonably-priced Champagne that is worthy of special occasions, as well as a simple work night dinner when one feels like "I deserve this treat."
an add on
02/21/2014
by rogers13755212
its not as complex as Taittinger Comte de Champagne 2004, but for half the price it's a much better bubbly. And I love the Taittinger Comte de Champagne 2004. The texture, for those who appreciate texture, is quite similar
absolutely lovely champagne
02/21/2014
by rogers13755212
this champagne is wonderfully tight and beautifully flavored. Texture is divine. It is extemely hard not to finish the bottle even if there a multitude of other wines to taste.
Everything you could ask for in a champagne.
12/21/2013
by Hall14070621
Lovely pale green/yellow color with small persistant bubbles floral/fruity nose mouth filling lovely chardonay!!!
08/26/2013
by NutNut
Hard to imagine a better BdB - it's a pure, mineral laden, lemon citrus smelling bubbly elixir. World Class.
Fabulous Champagne
02/24/2009
by cabernet13449986
One of the best bottles of Champagne I've had. We had this to celebrate a big event and could not have chosen much better. Went well with a light meal and was just as good on its own later. Had a small piece of Delice de Bourgone cheese which was a perfect match to finish dinner.
Wonderful Champagne
01/01/2008
by Wilson12030863
Enjoyed this bottle along with 5 others this New Year's eve. Four of us rated it number one or two. Our other favorite was was Moet et Chandon Nectar Imperial. Both are bubbly, slightly sweet, with limited bouquet but wonderful fruity overtones. Fantastic!
Best of the best
12/14/2007
by ratso222
Invest in this vs. Kuggerands
Great Anniversary Bottle
07/15/2007
by Burnett10589021
This Champagne was the centerpiece for my 25th wedding anniversary celebration. Clean and delicious with excellent fruit a nd finish. Apple notes.
Awesome!
09/12/2006
by teroldego
This was a perfect foil for the great deserts at Papa Haydn's in Portland. Brioche, pears, and a nice nuttiness on the nose. Wonderful flavors of lemon and minerals burst on the palate. If you are a fan of crunchy wines, you will love this! Slightly bitter (in a good way) lemon zest finish. Simply terrific!
Great Stuff
01/18/2000
by JeffO
Love this
Sorry to be redundant, 5 Stars!
02/14/2003
by CKoyste
Very, very few wines are true class "A" wines. This one is. We had this at Pif tonight in Philadelphia paired with the first 3 courses of David Ansill's 7 course tasting menu. The cuvee prestige works well with more delicate dishes although the last glass surprisingly held its own against the robust flavored escargot with pernod. This wine is a bargain in the exalted realm of luxury cuvee Champagne!
Mmmmmmmm
12/20/2002
by Wine me?
Thanks for the great recommendation. It is worth the extra money over the blanc de blanc for that special occasion. Laser-like wine. Just fantastic.
WOW
02/14/2002
by cabernet51281
the best champagne I have ever had - worth every penny
Always keep a bottle on hand.
07/26/2000
by chard51603
This is a great champagne that helps you find a reason to celebrate!
Don't drink Clicquot anymore!
03/20/2000
by Stephane Castera
I loved Diebolt-Vallois ever since I started working in the Philly restaurant scene. First at Le Bec-Fin and then, at the Four Seasons, the wine is balanced, the length is long and the finish is superb. p.s. also try the Fleur de Passion from Diebolt-Vallois, a truly great wine.
Served at Le Bec Fin's NYE Bash
01/18/2000
by Edward Murray
Pale gold with persistent stream of small bubbles. 100% chardonnay all from Grand Cru Cramant grapes. Aromas of green apples, minerals and citrus. Quite complex, wonderful mouthfeel.
This is among my the top 5 lifetime wine experiences.
01/20/2000
by morgan97
Cuvee Prestige is a well rounded wine.
My Favorite Champagne
01/18/2000
by Cabernet5465
This wine is a stone classic. Take the advice of the winemaker and chill the wine slowly (water up to the shoulder of the bottle and about "half a tray of ice - American" - 6 cubes). Beautiful, complex, subtle aromas with a lush, vibrant texture. One of the finest Champagnes you'll ever try. Grand Cru fruit from Diebolt's holdings in Cramant (Chardonnay).
The wine is as elegant as the label
02/01/2014
by Jarman12599986
The sensory experience begins with the elegant bottle shape and pretty label, which shows well against a backdrop of roses. Pouring the wine, one is greeted with an energetic surge of carbonation that rapidly quells; pale golden color, delightful aroma combining yeasty and floral scents; elegance on the palate with creamy texture, tartness, a combination of aggressive minerality, citrus, some pear, floral quality, long finish and almost a touch of sweetness - i.e. not witheringly dry.
to correct earlier error in entry
12/07/2013
by luna11963485
More dry than expected. Lovely bubbles and finish. Excellent with light food.