1994 Dominus Estate Red Wine Napa Valley
Begin Your Search
---
Related Products
---
Other Wines from this Producer and Vintage
WineAccess Travel Log
---
Read stories from the world's greatest wine trails.
More About This Wine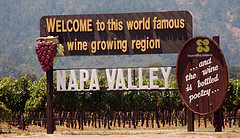 About Dominus Estate
Christian Mouiex's orgins are in Bordeaux. During his time at UC Davis, however, Mouiex fell in love with the Napa Valley. It was to be a lasting love, which flowered into Dominus, his California outpost.
1994 Dominus Estate Red Wine Napa Valley
Producer: Dominus Estate
Style: Red Wine
Grape Type: Bordeaux Blend
Origin: California
Region: Napa

Saturated deep red-ruby. Knockout nose combines currant, Cuban tobacco, earth, tar, bacon fat, cedar, leather and game; conveys an impression of totally ripe, almost roasted fruit. Lush and sweet; already offers extraordinary inner-mouth flavor and great depth. One of those rare wines that too big for the mouth. Finishes with great velvety texture and magical persistence. Mouthdusting, building tannins coat the entire palate.
99 Points | Robert Parker's The Wine Advocate
Your Rating & Review
13 Member Ratings
Average Member Rating: 4.84 out of 5 stars
| | | |
| --- | --- | --- |
| | | |
| 5 stars | | (11) |
| | | |
| 4 stars | | (2) |
| | | |
| 3 stars | | (0) |
| | | |
| 2 stars | | (0) |
| | | |
| 1 stars | | (0) |
| | | |
Member Notes
Top Notch New World Wine
08/11/2006
by Allen12071410
Had 12-31-99 and the wine just exploded in red currant with complex notes anise, warm chocalate, mushroom and cofee.By far the best incarnation of Dominus. Scored #2 on 2000 celebration tasting including Bordeaux's. A Bordeaux won with 60 tasters.
There's hope for the New World
08/07/2005
by WT in Ann Arbor
Wow! A friend opened a bottle for us with dinner last night. While I usually favor French and Italian reds, this wine stands up to the best. Powerful yet elegant, and perfectly balanced. Earthy leather and tobacco notes surround still intact dark red fruit. It will be interesting to see where it goes over the next 5-10 years. I hope I'm fortunate enough to try it again someday.
Amazing Bottle of Wine
02/01/2005
by Cardsandwine
1/05: An extrodinary wine. If it were a blind tasting I would have thought I was drinking a Bordeaux from a great vintage. The wine exhibits the essence of terroir. Rich, lush, smooth, complexe, dense, it has it all with a finish that lasts for 30+ seconds. I can't wait to open another next bottle.
Great stuff......
12/09/2004
by Turnbull10476632
One of the most balanced Cabernets I have ever had. Not cheap at all, but compared to opus one, this wine blows away the competition, I am just happy I have 5 left. 5 stars easily.
The best!
12/02/2003
by Brown10445725
Simply the best bottle I think I ever had! My wife and I were sad to see it go, but we still have one more in the cellar (we always buy a minimum of 2 when we buy, if not by the case!) This wine jumped at us, right from the first taste. It was a honey/earthy taste at first that had many layers to it. I simply do not have enough positive adjectives to discribe this treasure. Even though it is a bit pricey, it has to be one of the finest wines out there. Enjoy!
G.F.W.
07/22/2001
by whiner51
The best wine I have tasted. This would be a perfect wine were it not for the light finish. The wine was impeccably balanced. It had a honey-viscous texture and has a hint of honey in its many layers of flavor. Yet the wine was far from overly sweet. Plenty of earth and even hints of porcini mushrooms were present. This was simply a beautiful wine.
Not for the faint
01/25/2012
by JW
Epic nose spanning the panoply of barnyard aromas. Good concentration with smooth tannins, moderate acidity, and excellent balance and structure. More reminiscent of a young-to-middle-aged northern Médoc bottling than North Coast Cab. For those who prefer their terroir remain tucked under foot as opposed to scooped into their glass, I suggest steering for a fruitier expression of Napa Valley Cabernet and "new world" Bordeaux-style wines. Although some might say this wine is too muscular to truly be considered "old world" in style, there is little doubt that Dominus (especially this '94) could be mistaken for a 1989, 1996, or 2000 Pauillac or St. Estèphe . . . and a good one at that.
Where's the beef?
10/28/2009
by Hunter11876834
That sort of what I was asking when I had this wine on two separate occasions. Not huge or explosive, but soft, balanced and not very long in the finish. Those were 3 and 5 years ago so maybe the next will be better but I didn't note much tannin then so could be even softer now. 2 left or is it 1? At this point, I don't really care. More later when I drink it.