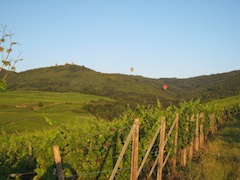 Alsace Facts
---
AOC (Appellation d'Origine Contrôlée) Classifications:
Alsace, Alsace Grand Cru, Crémant d'Alsace
Common Grape Varieties:
Gewurztraminer, Muscat, Pinot gris, Riesling, Auxerrois blanc
Bottling:
Alsace wines are bottled in tall, thin bottles commonly called flûtes d'Alsace.
---
Recommended Wineries:

WineAccess Travel Log
---
Read stories from the world's greatest wine trails.
About Alsace
Alsace has been almost pathologically ignored by the American wine-drinking public for generations--a real mystery in light of the great number of juicy, pure wines produced in this picture-postcard region of northeastern France. Virtually all of Alsace's best wines are white, and they are particularly food-friendly thanks to their fresh fruit flavors unobscured by oak. While the majority of the region's most important wines are Riesling, Pinot Gris, and Gewürztraminer, other grapes, especially Pinot Blanc and Muscat, account for some of the best values in Alsace wines.
The distinctly continental Alsace region is sheltered from inclement weather out of the west by the Vosges mountain range and bounded by the Rhine River to the east, the border with Germany. Surprisingly, in light of its northerly location, the town of Colmar, in the center of Alsace, is one of the driest cities in France, so that grape-growers in this region are able to pick healthy grapes deep into autumn. Slow ripening allows the fruit to develop flavor intensity while retaining sound acidity. No doubt global warming has largely been responsible for ever-riper grapes in recent years and finished wines with more residual sweetness.
Expert Rated

Under $50

Top Expert Rated Alsace Wines Under $50
Albert Hertz Image: Licensed under Creative Commons License Attribution 2.0