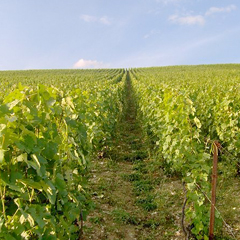 Champagne Facts
---
Bottling:
Secondary fermentation occurs in the bottle, causing champagne's signature carbonation. Corks are made of several pieces, resulting in a distinctive mushroom shape.
Common Grape Varieties:
Chardonnay, Pinot Noir, Pinot Meunier.
---
Recommended Wineries:

WineAccess Travel Log
---
Read stories from the world's greatest wine trails.
About Champagne
Champagne-making is the highly refined art of blending base wines into a whole that is greater than the sum of its parts. These component wines come from different grape varieties (the white grape Chardonnay and the red varieties Pinot Noir and Pinot Meunier) and from different villages and vineyards. And because only four or five harvests per decade in this marginal climate northeast of Paris provide the raw materials to make balanced, complete Champagne wines--that is, vintage-designated Champagnes, which must be entirely from the year indicated on the label--most Champagnes also combine juice from two or more vintages.
Blending across vintages is the way Champagne producers are able to maintain the house styles their customers have come to expect. As nonvintage wine accounts for about four-fifths of total Champagne production, it is hardly surprisingly that the reputations of most major houses hinge on the quality and consistency of their non-vintage blends. Not only that, but the better nonvintage Champagnes on the market today are often every bit as satisfying as the typical vintage bottling--and a lot cheaper to boot.
Two districts of Champagne are considered best for high-quality grapes: the Cote des Blancs, whose chalk and limestone soils are ideal for Chardonnay, and the Montagne de Reims, which is ideally situated for growing the red grapes Pinot Noir and Pinot Meunier. The Vallee de la Marne, which stretches in a narrow band across most of the region and is planted to both red and white grapes, is the largest area aside from the Aube district, which lies far to the south, disconnected from the other Champagne vineyards by almost 50 miles and generally producing fruit destined for anonymous blends.
Expert Rated

Over $50

Top Expert Rated Champagne Wines Over $50