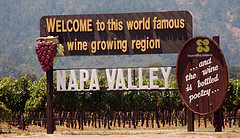 WineAccess Travel Log
---
Read stories from the world's greatest wine trails.
About Napa Valley
Napa Valley is the most famous wine-growing area in the U.S. It begins at the base of Mount St. Helena in the north and tapers off some 30 miles to the south into the floodplain where the Napa River enters San Francisco Bay. From Mount St. Helena to the city of Napa, the valley is defined by two north-south ridgelines of the Coast Range Mountains.
The bulk of grape growing for Napa wines takes place on the valley floor and on the gentle slopes adjoining the floor, the best-known example probably being the Oakville Grade. The floor ranges from less than a mile in width in the north to about 3 to 4 miles across in the south. The hills to the west of the valley floor are part of the Mayacamas Range; they contain key appellations such as Mount Veeder, Spring Mountain, and Diamond Mountain District. With the exception of Howell Mountain, the hills on the eastern side of the valley are not nearly as important or as well known.
From its earliest days, Napa Valley has been the home of some of California's most famous wine estates. Today, the valley boasts upward of 36,000 acres planted to Napa wine grapes and some 250 wineries, most of which offer high-caliber, often expensive Napa Valley wines. With some notable exceptions, the best California Chardonnays, Cabernets, and Merlots come from Napa; these varieties make up two-thirds of the vines in the region.
Because of its huge size, Napa Valley is home to varied microclimates that support many different kinds of wine grapes. For example, the cool Carneros region by San Francisco Bay yields good Chardonnay and Pinot Noir; and at the other end of the valley, the warmer Calistoga area can produce perfectly ripe Zinfandel, Petite Sirah, and monster Cabernets, but it usually overcooks Pinot Noir and other heat-sensitive varieties. On wine labels, the term "Napa Valley" has included all but the most outlying and inhospitable lands of Napa County.
Member Rated

Under $50

Top Member Rated Napa Wines Under $50
Napa Sign Image: © Donna Sutton. Image licensed under Creative Commons License Attribution-NoDerivs 2.0